Kadıköy and neighboring Moda are packed full of trendy cafes and restaurants ranging from street food stalls to high end restaurants, so it can be hard to decide where to eat. We stayed in Kadıköy for a month, exploring the local food scene and ate at dozens of different places and these are our picks for the absolute best restaurants in Kadiköy. If you're looking for cheap eats, we wrote about our best budget picks here!
The list below is the cream of the crop, our absolute favourites that we don't hesitate to recommend. If you get the chance to visit Kadıköy we promise that if you eat at any of these places you won't be disappointed and you'll certainly have a meal to remember!
This site contains affiliate links to products and services. We may receive a commission for purchases made through these links which help keep us on the road and costs you absolutely nothing
If you go to one place on this list, make it Balıkçı Lokantası. On a quiet side street not far from the Kadikoy bus and ferry terminals, this tiny restaurant is very serious about top quality seafood. There's no menu here, so the friendly staff will take you inside to show you the fresh catch in their cold case and recommend how they can prepare it. We ordered all of their suggestions which included a chowder-like fish soup, a braised scorpionfish, a simple grilled local sea bass and a green salad.
To start they brought us out 2 varieties of complementary dip with bread, one pepper based and one eggplant. Everything here was delicious but the stand-out dish was definitely the scorpionfish braised in a mixture of peppers, tomatoes, mushrooms and onions. It came out still sizzling in a cast iron skillet, with the vegetables perfectly caramelized and was undoubtedly one of the best dishes we had in Istanbul. The prices were extremely reasonable for the quality of seafood, the entire meal came to 230 Turkish Lira ($27 USD.)
Address: Rasimpaşa, Teyyareci Sami Sk. No:20 D:B, 34716 Kadıköy/İstanbul
Küff was near our Airbnb and we're so glad we found this gem. It has a hip modern vibe and the servers were so sweet and accommodating. We went here to have our first official Turkish breakfast for two and it was so great we visited again. We had really high expectations about Turkish breakfast, every picture I had seen led me to believe it was the meal of my dreams and we definitely didn't leave disappointed.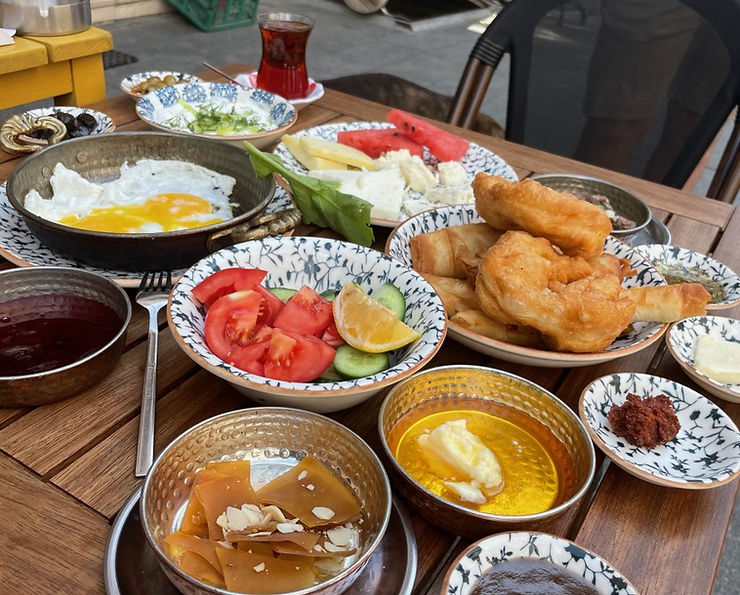 The servers brought out a seemingly endless line of small plates, they had to bring out a whole other table to fit everything! The dishes were Ezine white cheese, turkish herbed cheese, Erzincan tulum cheese, trakya old kashar cheese, olive oil with za'atar, black and green olives, spicy cured tomato sauce, honey & clotted cream, homemade jam, tahini-grape molasses, tomato, cucumber, fruit, butter, crispy phyllo dough with halwah, buttery dried fruit pulp (kind of like a fruit roll-up?) tzatziki, hot braised meat, potato salad, Paçanga pastry, rolled pastry, fried dough and fried eggs. It even comes with unlimited tea, and they mean unlimited! We were barely finished half a cup when the staff came to replace it with a full one. It's so much fun to try a bit of this and a bit of that while sipping your tea and people watching from your street-side table. All this for only 120 Turkish Lira ($14 USD) for two.
Address: Rasimpaşa, Karakolhane Cd. No:54, 34716 Kadıköy/İstanbul, Turkey
Having done a quick search for 'best meze in Kadikoy' we headed out for the evening expecting to enjoy our dinner, but this place really charmed us beyond our expectations. Meze is a traditional way of dining in Turkey (and all areas of the former Ottoman Empire), consisting of tasting many small plates of food. The word meze originates from an old Persian word meaning 'to taste' or 'to relish' and is meant to enjoy slowly over conversation and drinks.
At Agapia Meze we were led to a gorgeous back patio space. In spite of the restaurant being in the middle of a huge bustling city, the beautifully designed patio space made you feel like you were dining seaside overlooking the Mediterranean.
In Turkey, raki, a very strong (90 proof!) drink made of twice distilled grapes and anise, is the traditional accompaniment to meze. Not wanting to ignore tradition we ordered a small 350 ml bottle. The waiter insisted that raki & melon are made for each other so we started with a slice of honeydew melon. All the produce is top notch in Turkey and the honeydew here is the best we've ever tasted.
Have you ever seen anyone so happy with the spread in front of them? (I think that the Raki may have helped.)
When led to choose our meze from the display cases, we did something we're infamous for and let our eyes get much larger than our stomachs. We chose 9 dishes! The highlights for us were the meat and rice stuffed dried peppers, bulgar balls in pomegranate sauce, gigante beans in an olive oil and tomato sauce, sarma (lamb and rice wrapped in grape leaves) and mutebbel (a creamy dip of eggplant, yogurt and tahini.)
While we were happy to sit for a few hours, sipping our raki, chatting and slowly making our way through all 9 dishes, we think that 5 dishes probably would have been plenty. With the full bottle of raki and all 9 plates (and a complimentary fruit plate) the total was 430 Turkish Lira ($49.75 USD.)
Address: Caferağa Mahallesi Bahariye Caddesi &, Miralay Nazım Sk. No:10, 34714 Kadıköy
Eating in Kadiköy
Overall we loved our dining experiences in Kadiköy. We found that the restaurants catered more to locals than many of the places we ate at near the tourist sites in Sultanahmet, Eminönü or Karaköy/Galata areas. On the flipside of that coin, because there are fewer tourists in Kadiköy, there are fewer English speaking staff, so smile, brush up on some basic Turkish phrases and make sure you have google translate downloaded!
Want to join a local to find the best eats in Istanbul? Check out these highly rated food tours