Tired of eating at the the same tourist traps while on vacation? We are here to make sure that doesn't happen to you in Granada. This gem of a city in the Andalusian region of Spain is known for its food and tapas and you will be well served by digging a little deeper than you what you will see along the tourist trail.
This site contains affiliate links to products and services. We may receive a commission for purchases made through these links which help keep us on the road and costs you absolutely nothing
El Cantaro Meson
To be sure you will be eating with locals here. This beauty isn't located in Granada. It is actually in the small town of Ogijares just outside of Granada. Not to worry, it is a short bus ride to the town from the centre of Granada and even shorter if you have your own vehicle for your stay in Granada.
We showed up here a bit early for our lunch and the owner was nothing short of amazing. He felt bad that he had no offerings for us when we arrived, despite it being completely our fault, that he quickly whipped up some tapas to tide us over until our lunch would be ready. He also made sure to bring out a bottle of wine. Our Tapas consisted of fresh cheese doused in olive oil and fries smothered in pork with a spicy sauce.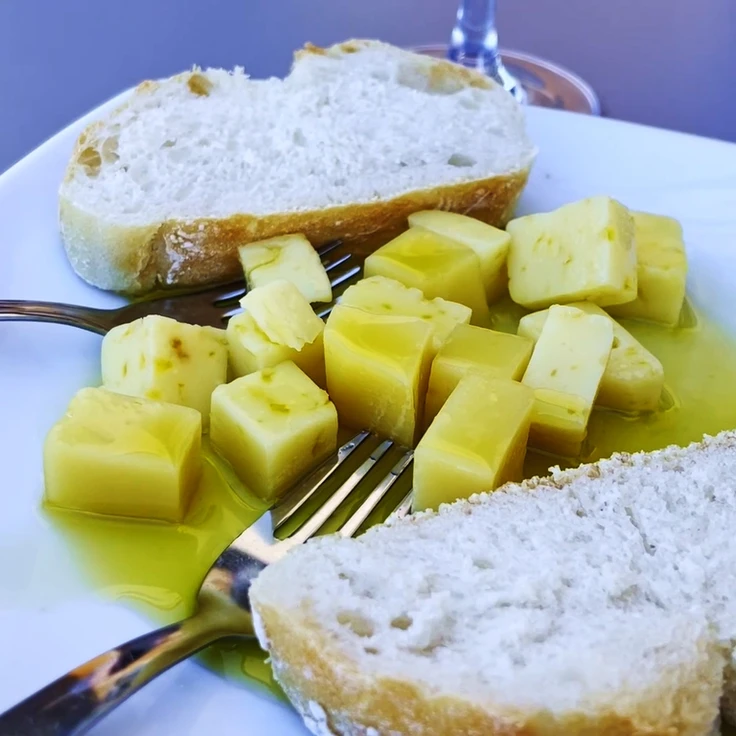 When we were able to order our lunch we chose what is common in Spain. The Menu Del Dia, which is without a doubt the best bang for your buck. For a fixed price, usually around 10-15€, you get an appetizer, a main, a desert and a bottle of wine.
This was a fun experience because no matter how hard we try, we don't speak Spanish that well. Angela ordered something off of the hand written menu, we had no idea what it was. So we typed it into google translate "Choco á la
Americana" which translates to "Crash the American?" That gave us a laugh, but turns out we forgot a letter, it should have been "Chocos á la Americana" which translates to "cuttlefish in American sauce." While just the thought of cuttlefish made her squeamish based solely on a South Park episode she saw several years ago, it was quite delicious. She also ordered the homemade migas and if you have no idea what that is, I highly suggesting ordering it at the first opportunity when arriving in Spain.
I ordered a chicken stock based potato stew that can only be described as comfort food as well as thinly sliced pork cutlets drowned in garlic butter. All of them to die for. We finished off this meal with desert. Angela order a cheese flan and I had a traditional Spanish rice pudding from the region.
The food here was amazing despite Angela getting a little uneasy with her cuttlefish. One other thing to note, when your Menu Del Dia is finished, you will quickly understand why the Spanish take siesta. It will be much needed. You can see this restaurant as well as others in this article in our Granada Food Tour
If you're looking for accommodations in Granada, check these great deals
AirBnb – We stayed in the little town of Ogijares so the above mentioned restaurant was just a short walk for us. If you are looking for something a little less expensive for a long term stay in Granada this may be your place.
Luxury Accommodations –Alahmbra Palace – Alhambra Palace is located just outside the Alhambra's ancient walls, offering spectacular views over the city of Granada. It features stylish rooms with Moorish-inspired décor.
Mid Range Accommodations – Bibo Real Chancilleria – BiBo Real Chancilleria has air-conditioned guest accommodation in Granada, 50 m from San Juan de Dios Museum, 600 m from Paseo de los Tristes and 700 m from San Nicolas Viewpoint.
Budget Accommodations – Casa de la Catedral – These apartments are in the historic centre of Granada, just metres from the Cathedral. Casa de la Catedral has a bar-restaurant with creative tapas.
Hostel – Barbieri Granada – Run by notorious matron Ana (an awesome host according to one past guest) you'll be well taken care of.
For more places to stay in Granada, you can check the latest prices on Booking.com
La Mancha Chica Chaoen
This unassuming gem is tucked away down a little side street in the Albaicín neighbourhood. Don't be mistaken though, you will not find this place packed with tourists as you can walk right by it without ever noticing it was there. They specialize in Moroccan food and this husband and wife team do it well. The chef (the wife) is from Morocco and seeing how Granada was the last stronghold of the Moorish who controlled this region for more than 800 years it seems only fitting.
Starting off here we ordered a couple of appetizers of homemade hummus, a harissa dip, fluffy pita, Moroccan salad and Moroccan olives. The hummus has a velvety smooth texture and finished perfectly with fresh olive oil. Moroccan olives are the best we have found in the world and these were no exception. The harissa, while not "hot", has a lovely tang to it that works perfectly with the hummus.
For mains we ordered a lamb tagine with olives and vegetables and chicken couscous with raisins, honey and almonds. Both fantastic dishes with the couscous stealing the show.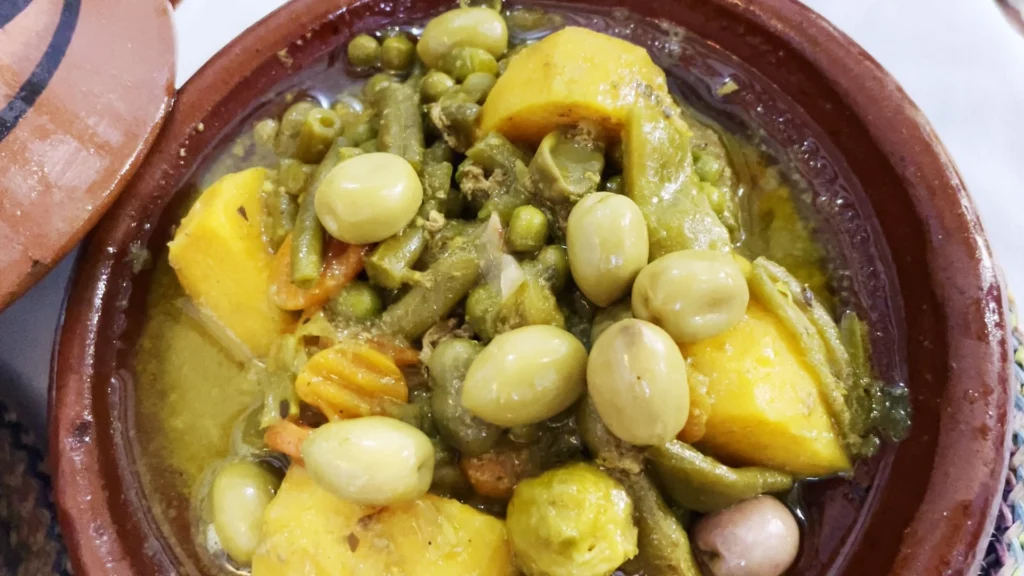 To be quite honest we spent several months in Morocco as well and found the tagine and couscous there to be uninspiring at best. While we had a lot of great food in Morocco, those two dishes were not one one of them. So finding this restaurant in Granada that made great couscous and tagine was a pleasant surprise
La Bodega De Antonio
Certainly one of the absolute best restaurants in Granada and maybe our favourite. We started off here with once again a Menu Del Dia, which was 12€ per person. This time we went with the house red wine which you can order by the litre or half litre. If in Spain, do try the house wines as they are every bit as good as any bottled wine you can buy and normally at a fraction of the cost. And that is saying something when wine is dirt cheap in Spain to begin with.
When we entered the restaurant there was literally nobody there but us, that changed very quickly as the place became packed with locals vying for a table and a long line up out the door.
For starters, they brought us maybe the largest salad I have ever seen in my life. Packed with white Asparagus, pickled leeks, corn and a succulent tuna filet. Our second starter was a paella that was the best we had during our entire three months in Spain
For the mains Angela had a large plate of one of her favourite things, fried anchovies (boquerones) and I ordered a bulls tail (Rabo Del Toro) that had been
braised and simmered for hours. Angela makes a wine braised short rib that I love, but unfortunately this bulls tail tops her short ribs. An unexpected, yet fabulous twist, is the french fries that are included in the pot. They absorb all the delicious juices from the bulls tail and leave you wanting more
And for desert we ordered a cheesecake and a leche frita or fried milk. The leche frita was a surprise. Neither of us had ever tried it so we didn't know what to expect. The interior is a cold custardy centre of milk and the thin batter appears to be flash fried. It was AMAZING! The cheesecake while delicious tasted like you would expect cheesecake to taste. Then again, I was five glasses of wine in at that point so I may not be the best judge of what it tasted like.
Looking for fun things to do in Granada? Check out some these ideas
Bodegas Castaneda
Ok, this one isn't exactly off the tourist path and often you will find this place packed with locals and tourists. This establishment has been around for almost 100 years and is considered by many to serve the best tapas in Granada. We came here for dinner so tapas was not our priority on this night. If you're interested in tapas, we wrote an article on that here.
We started with a glass of wine which inevitably gets you the customary free tapas. The tapas for this round of drinks was marinated meatballs with baguette and it was fantastic. So in addition to that we ordered one of their gorgeous salads.
Due to eating and drinking way too much during our time in Spain we "thought" we were taking it easy on this night and going a bit lighter. We were totally wrong about that. We order a single combination platter of cheese, different cuts of pork, croquettes, beans with capers and tortilla. We didn't think that would be much food. This platter was HUGE. So big in fact I had to take three pictures just to get the entire board. We had initially ordered more, but luckily for us our lovely server quickly informed us that we were in fact ordering way too much food. Not often do you see a server trying to stop you from ordering too much food.
Pasteleria El Sol
Also not exactly off the tourist path but deserves a mention. This bakery is doing it right. Despite the fact that I am normally the one with the sweet tooth, Angela gets to feel "adventurous" when ordering multiple deserts because she knows they wont be cuttlefish. Ok, on a serious note, we ordered a basic eclair for myself. Angela ordered a local specialty called pionono. It is a rolled cake, soaked in syrup with cream on the top that is toasted. This desert was named after Pope Pious the IX and apparently the toasted cream resembles the Popes hat. The last thing we ordered was a batata. Now this thing was super sweet so we still can't say for sure what it is. We do know that batata translates as sweet potato and it looks like sweet potato, but tasted nothing like a sweet potato.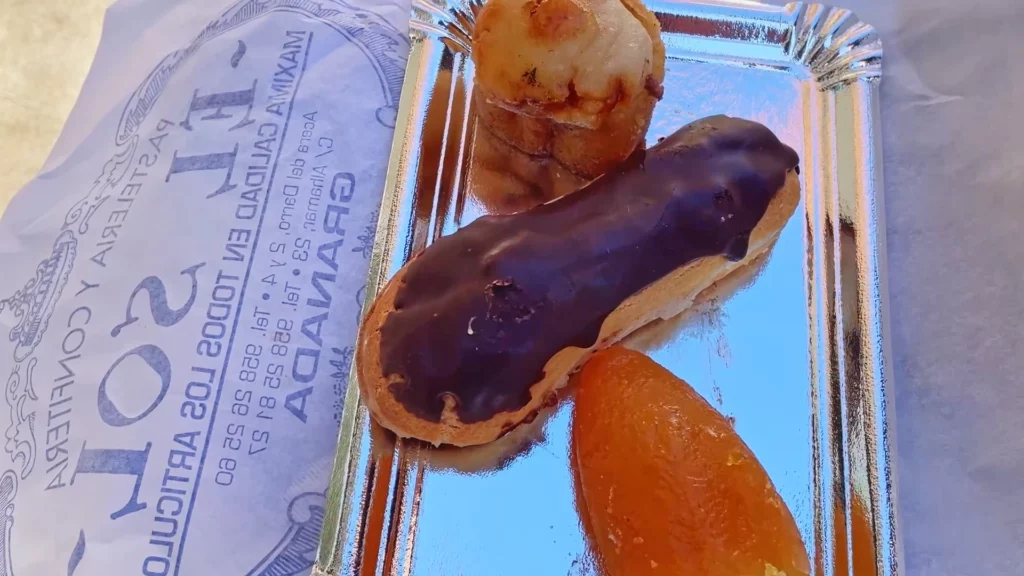 If you've been to Granada and we left your favourite off the list, leave a comment below and let us know what we missed!