Want to eat like a local in Split Croatia? Finding good, local (non-touristy) food is one of the more difficult parts of any holiday and finding it in Split Croatia is no exception. This gorgeous city on the Adriatic coast of Croatia is becoming well known as foodie destination but it certainly has its tourist traps. Every restaurant featured here is located in Split's old town where tourist traps are plenty. Angela's family is from this region and they gave us some inside tips on finding the absolute best restaurants within the old town.
This site contains affiliate links to products and services. We may receive a commission for purchases made through these links which help keep us on the road and costs you absolutely nothing
You will eat like a local at Uje Oil Bar. This beauty is located in the heart of the old town and is preparing sublime Croatian classics. They centre their dishes around locally sourced ingredients and their signature olive oils.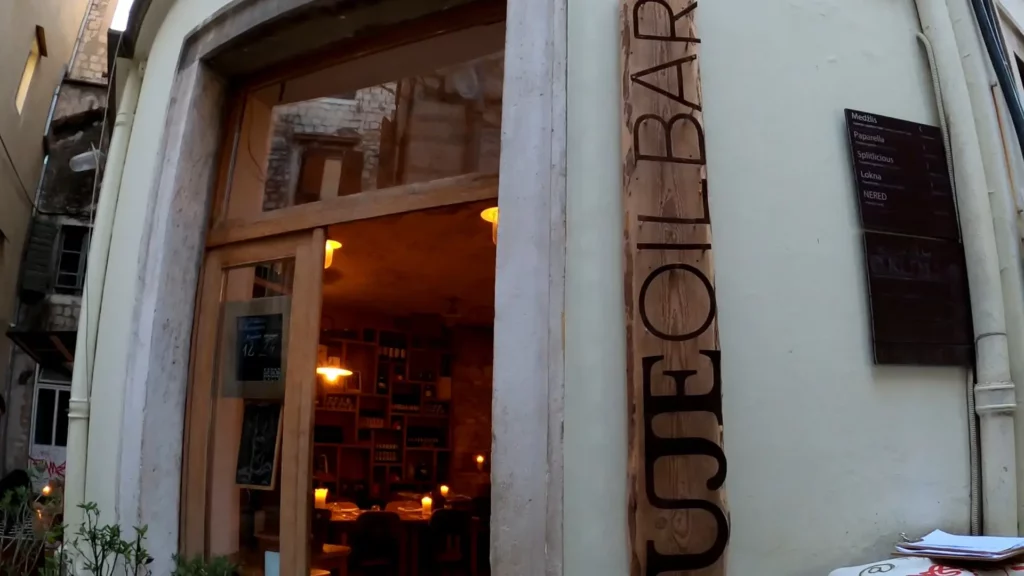 The meal started off with a gorgeous bottle of Croatian Plavac Mali and a homemade green olive tapenade. Angela is a HUGE fan of tapenade, and olives in general. She was in olive heaven with this tapenade.
The mains are the outstanding here. Geoff chose slow roasted bull tail and polenta. The bull tail is a combination of fall apart tender chunks of meat and a perfect amount of fat. The fat infuses the entire bowl of polenta with a deep rich beautiful flavour. So delicious!
Angela's main was a smoked mussel pasta. While Italy holds the title for all things pasta, Croatia is a close second in my opinion. This dish starts with a home made Žrnovski Makaruni. A tubular shaped pasta that is very popular in Dalmatia. The hole in the middle of the pasta allows it to soak up any sauce that may accompany it. While the Makaruni is phenomenal, the sauce is where this dish shines. The smoky flavour of the smoked mussels permeate the entire dish. While we both love pasta, Angela has boldly proclaimed that this is the best pasta she has ever eaten.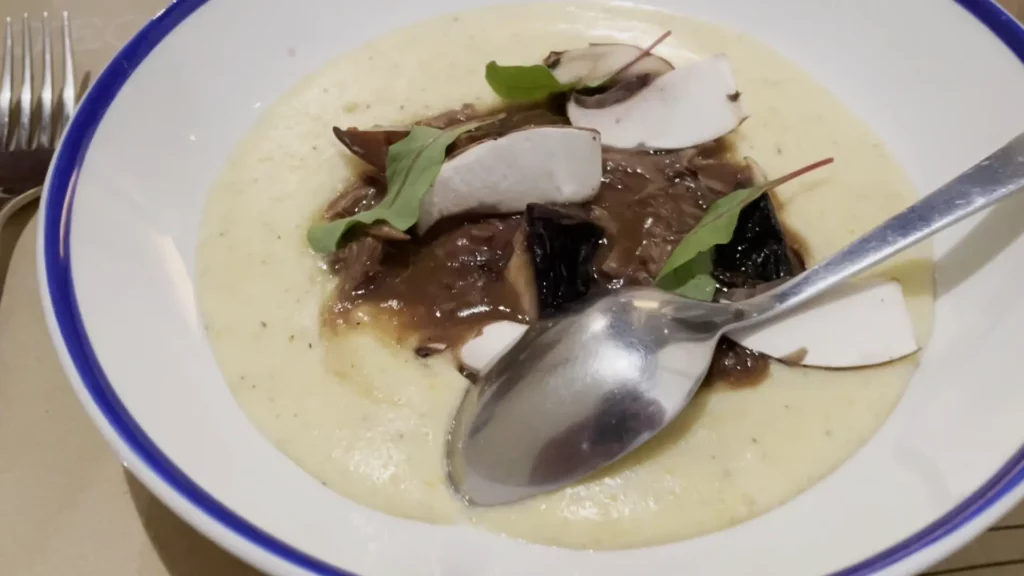 If you're looking for accommodations in Split, these are great deals
Luxury Accommodations – Murum Heritage Hotel – Excellent hospitality with an on site restaurant nestled Diocletian's palace
Mid Range Accommodations – Hotel Luxe – 400 metres from Diocletians palace and 500 metres from the beach. Great rooms with the option for a view of the Adriatic
Budget Accommodations – Antares Luxury Rooms – 600 Metres from Diocletian's palace and only 250 metres from the beach
For more places to stay in Split, check the prices below
We were lucky enough to attend this event on our last visit to Split, Croatia. Located just north of the city walls at Park Josipa Jurja Strossmayera, it's right behind the big statue of Gregory of Nin that you can't miss!
All of the participating restaurants have established brick-and-mortar locations within the old town or nearby. And every one of them prepare Croatian classics as well modern fusion dishes. Being spring and still off season the park where it was held was packed with locals. Assuring us that we would eat like a local, trying some of the best restaurants Split has to offer.
We have dined at their main location within the old town on multiple occasions on previous visits to Croatia. Needless to say we were excited when we saw they had a stall at the festival.
Here we ordered an Adriactic seared tuna with Wasabi crème fraîche, wakame and daikon sandwich. A Croatian/Japanese fusion offering for sure, but oh so tasty.
Perfectly seared pink tuna, with the wakame adding a salty crunch to the sandwich. The wasabi crème fraîche adds a much needed kick in my opinion.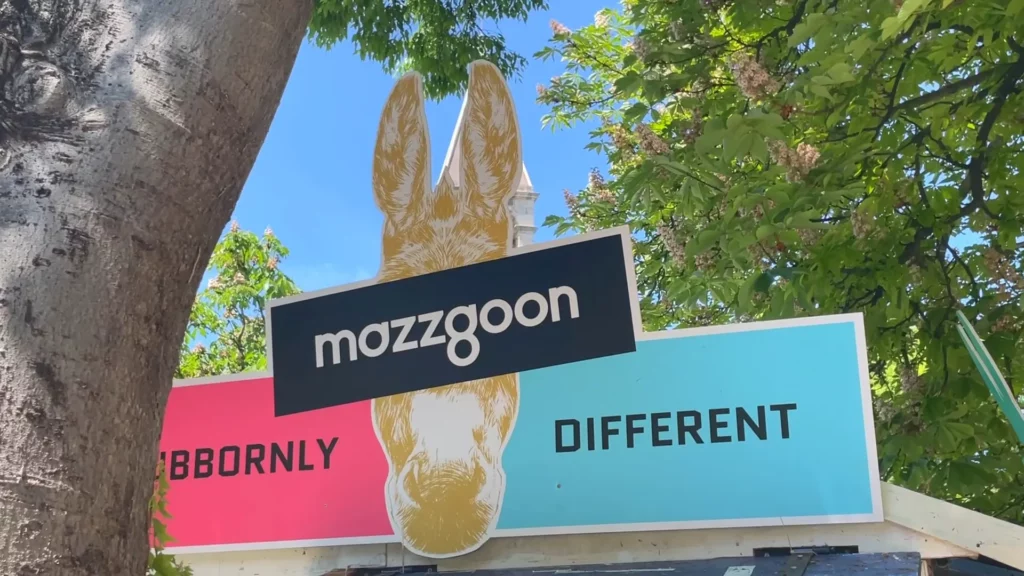 Šug has a popular restaurant just outside of the old town. About a 10 minute walk from the centre. Šug also boasts a Bib Gourmand rating, recognized by Michelin for good quality and good value dining. Not to worry, their permanent location is very casual.
We tried the venison stew with gnocchi and goat cheese. WOW! The venison is slow cooked to perfection, the gnocchi is pillowy with just the right amount of bounce. The earthy and tart goat cheese melted into the bowl made this a meal to savour.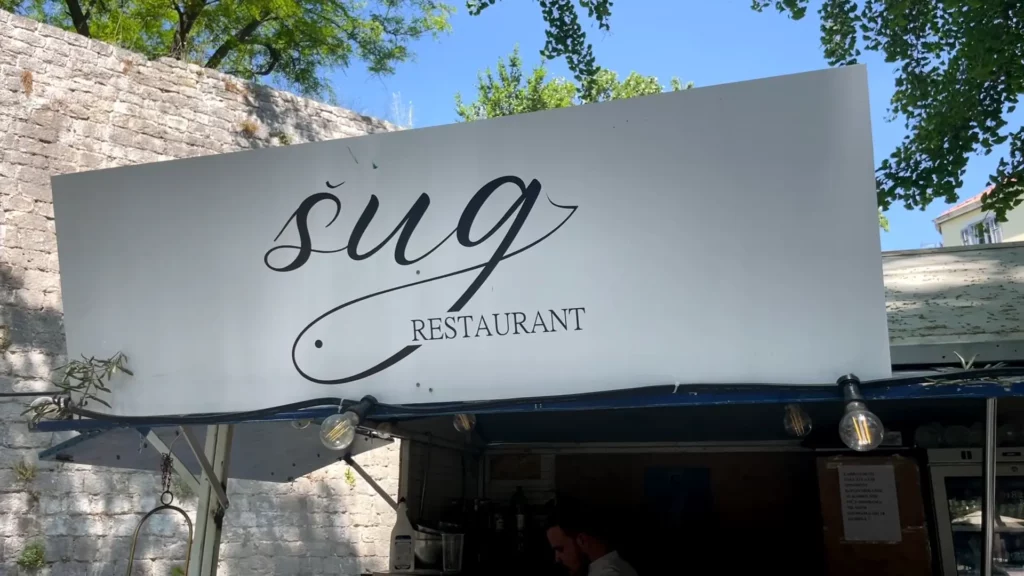 We had only a quick bite here, but it was of exceptional quality. We tried lamb confit, marinated cabbage, greens and sesame seeds on steamed bao buns. Fusion again, but oh so tasty. The lamb was fall apart tender and the tanginess of the marinated cabbage added a perfect touch. The super puffy bao buns were a bit of a surprise as I was not expecting to find good ones in Croatia. Seems that the Croatian chefs are really using their local ingredients to pull of some fun surprises!
Eat like a local at the gourmet food fare or at their location within the old town. Their specialty is seafood, famous local oysters to be more specific. Fresh bushels of oysters come almost daily from the famous Mali Ston oyster farms.
We had a dozen of these with a glass of pošip white wine that is famous in Dalmatia. Interestingly the oysters here were served with a kumquat hot sauce which gave them an oddly delicious bitter taste
Awesome day trips from Split!
Back in the old town, you'll find this beauty situated in a 19th century structure. They specialize in serving fare from the Adriatic, the Dalmatian countryside and Croatian vineyards.
We started off with a bottle of Pošip white wine and and the meal consisted of a tuna steak, žrnovski makaruni (yes,again) with a seared steak and truffle sauce and blitva. What exactly is blitva you ask? Keep reading.
Angela's tuna steak is cooked simply and doused with lemon. Perfectly seared leaving a gorgeous golden crust on the outside. Heaven on a plate.
I had the makuruni with steak and truffle. The pasta in Croatia is unlike any I have had elsewhere and as a pasta lover I couldn't get enough of it. Once you try real truffles in a country known for them you will never want to use "truffle oil" again. Only the real thing will do. The steak was fantastic.
Blitva is something Angela's grandmother would make for her since she was a young child so it holds a very special place in her heart. Blitva is the Croatian word for Swiss Chard. The dish blitva consists of that swiss chard, potatoes, garlic and an ungodly amount of olive oil. Trust me when I tell you that olive oil is giving it most of the flavour and it is to die for.
Another big plus here is the service. Our server was awesome in every way and very well versed on the preparation of dishes and the wine list. 5 stars for that alone.
We couldn't complete a where to eat list of Split and not mention this establishment. An absolute institution in Split and it is where every local will go to get there čvapi fix.
As straight forward as can be. These sandwiches consisting of čvapi, raw onions and ajvar on lepinja bread. Sometimes you will find them with cheese.
Let's break this down. Čvapi is a ground meat, usually beef and lamb, rolled into small sausage like shapes and grilled. They closely resemble the Turkish Kofta. Ajvar is a red pepper spread commonly found in the Balkans. And lepinja is a Balkan flat bread.
They may just be one of the best things you will ever eat. I poked fun at Angela for years when she would tell me about these, and then I went to Croatia for the first time. OMG!!!
And there you have it, lots of options to get the good stuff in Split, Croatia, so you don't end up eating sub-par crap meant only for tourists. These restaurants (like the locals) take their food seriously.
If you've been to Split Croatia and we left your favourite off the list, leave a comment below and let us know to help other travellers who want to explore the region!