Planning a visit to Dalyan, Turkey? If you're not, you should and while you are there Iztuzu beach is a must see. Here's everything you need to know about visiting Iztuzu Beach in Dalyan, Turkey.
This site contains affiliate links to products and services. We may receive a commission for purchases made through these links which help keep us on the road and costs you absolutely nothing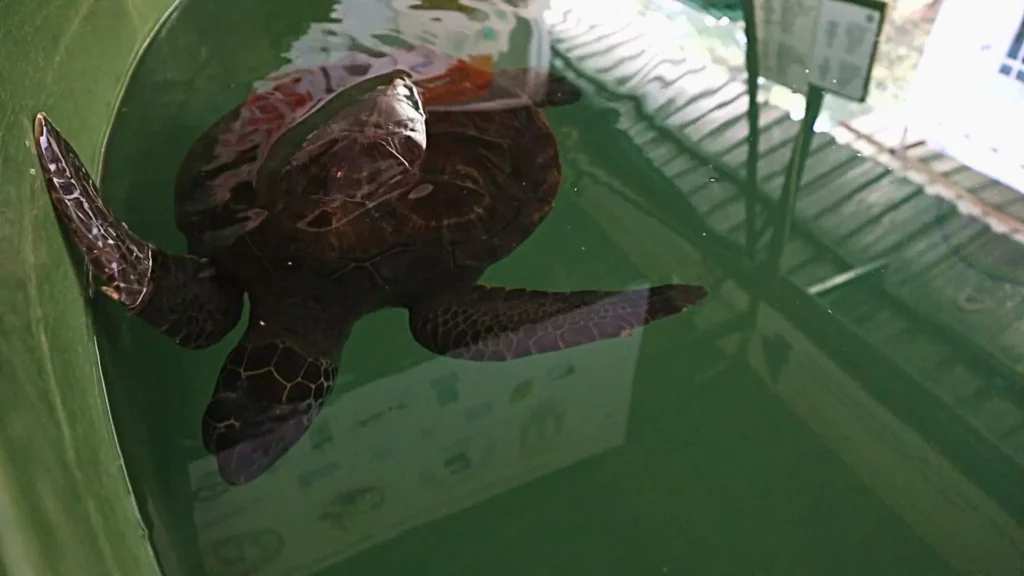 History of Iztuzu Beach in Dalyan, Turkey
Located in the Ortaca district of the Mugla province of Turkey, Iztuzu beach is a 4.5 km stretch of beautiful sandy beach that many consider to be the best beach in Turkey. In fact, it has been rated as one of the best beaches in all of Europe by several publications despite the fact that it rests in Asia.
Iztuzu beach is known for two things. Loggerhead turtles and Captain June Haimoff. For centuries Iztuzu beach has been the breeding grounds for the majestic loggerheads, also know as Caretta Caretta. The turtles lived and bred undisturbed along the pristine undeveloped shoreline of Iztuzu Beach.
In 1987, after years of development rumours, work began on the Kaunos Beach Hotel, an 1800 bed hotel complex. This is where Captain June comes in. June Haimoff was an English environmentalist who had been visiting the Dalyan area since the early 70's well before tourism became the norm in the area. She settled in Dalyan in 1984.
To halt the construction of the mega hotel by German investors, environmentalist groups, led by Captain June, approached the World Wildlife Fund and their president (who happened to be Prince Phillip of England.) Prince Phillip decided to intervene on behalf of the turtles and approached then Turkish Prime Minister Turgut Özal for a moratorium on the project pending the outcome of an Environmental Impact Assessment. The project was stopped and in 1988 the Turkish government forbade future building of any kind at the beach to save the turtle habitat.
There are several protection acts in place at Iztuzu beach to this day, especially during breeding season. In 2009 Captain June established the turtle hospital on Iztuzu beach that protects and rehabilitates injured turtles in the area. Unfortunately, Captain June passed away in April 2022.
Where to Stay When Visiting Iztuzu Beach in Dalyan, Turkey
Luxury Accommodations –Michelangelo Boutique Hotel Dalyan – Luxe boutique hotel with lush gardens, pool and hammans and spa treatments to treat yourself
Mid Range Accommodations – Hotel Happy Caretta – Great location and views along the stunning Dalyan river, and breakfast is included!
Budget Accommodations Karaca Apart Hotel Centrally located homey place with a delicious breakfast featuring local honey!
For more places to stay in Dalyan, you can check the latest prices on Booking.com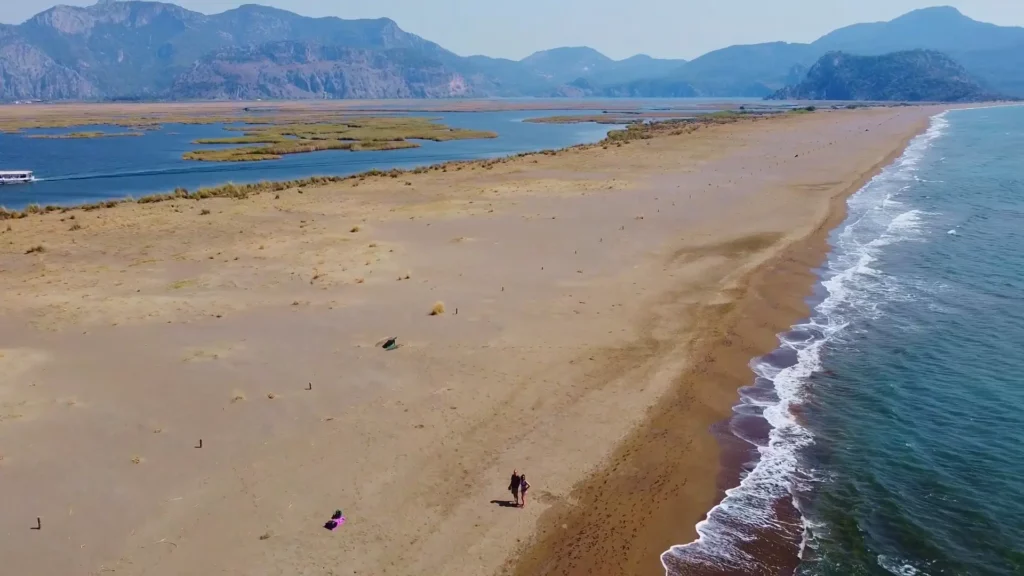 How to get to Iztuzu Beach in Dalyan, Turkey
To protect the turtle habitat, there are restrictions on Iztuzu Beach. Such as no speed boats allowed within 1 km of the beach or in the Dalayn River and delta. Because of this, there are only a couple of ways to get to Iztuzu Beach.
Our favourite way to get to Iztuzu Beach is to catch a public water taxi from the riverfront in the town of Dalyan. These are slow boats and take about 30 minutes to reach the beach. The cost for the public boats is 30₺ ($1.60) each way and it drops you off on the north end of the beach. There is no set timetable for the water taxis. It is a gorgeous and peaceful boat ride along the Dalyan river where you will get stunning views of the Lycian rock tombs and surrounding landscapes.
Your next option to get to Iztuzu beach is the public dolmus (mini bus) from the centre of Dalyan, just north of the Mosque. The bus takes 15-20 minutes to reach Iztuzu beach and costs roughly 30₺ ($1.60) round trip. The dolmus usually begins at 9:30 but often it won't leave until it is full. The bus to Iztuzu beach is cheaper than the water taxis but not quite as scenic. Although it does drop you off right in front of the Turtle hospital.
Other options for getting to Iztuzu beach include walking or renting a bicycle in Dalyan. It's about 10km from Dalyan so you will have to decide if that is your cup of tea. If you have rented a car you could drive to the south end of the beach. Parking is 30₺ ($1.60)
And your final option is to is to hire a private boat tour originating in Dalyan. There is one tour company we would highly recommend. We are in no way affiliated but we do highly recommend them. Basri and Rebecca from Capt. Boris Boat Trips are top notch and have become great friends of ours and their boat tours are legendary in Dalyan.
What are the Operating Hours of Iztuzu Beach in Dalyan, Turkey?
From May 1st to October 31st the beach closes overnight from 20:00 – 8:00 to protect the turtles during their nesting season.
There are many protective acts in place for the loggerhead turtles so please be respectful of all requirements when visiting Iztuzu beach.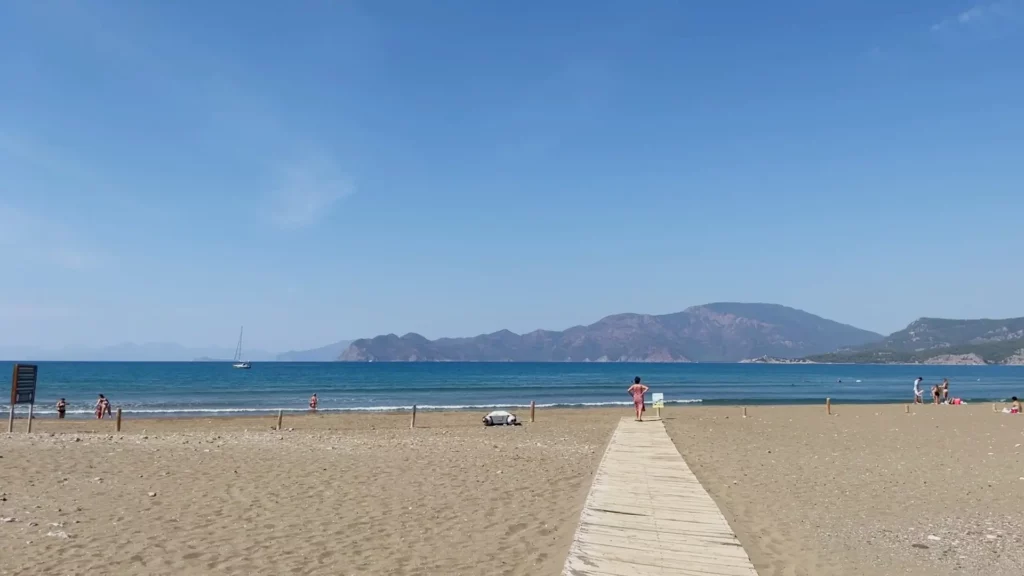 Iztuzu Beach Entrance Fees
Entrance to the Beach is absolutely free. You will have to pay for transportation as previously mentioned. There are snack bars on both ends of the beach that sell food and drink items.
Sunbeds can be rented at the very affordable price of 40₺ ($2.15) per bed and includes an umbrella. The turtle hospital and museum are free but it is highly suggested (and we highly encourage you) to leave a donation as this helps fund their efforts to save the turtles.
Looking for More Fun Things to do in Dalyan?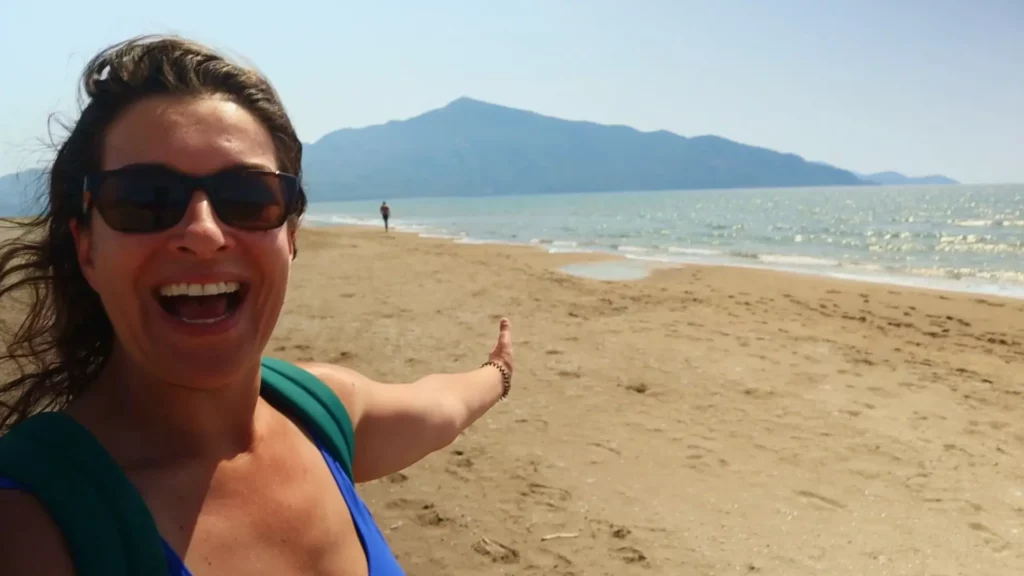 What to expect at Iztuzu Beach in Dalyan, Turkey
When arriving at the north end of the beach you will first encounter basic change rooms and shower facilities. There is also a cafe where you can purchase food and drink items.
As you make your way down to the beach you will see what seems like endless rows of sunbeds with attendants waiting to take your payment. After you settle in at a sunbed or on your towel along the shore get ready for the water. While not really a snorkel spot, it is extremely clear and very shallow for quite a way out. I was out probably 200 metres and it was still only waist deep.
If you're feeling like a little bit of exercise you can make the scenic 4.5 km walk to the south end of the beach.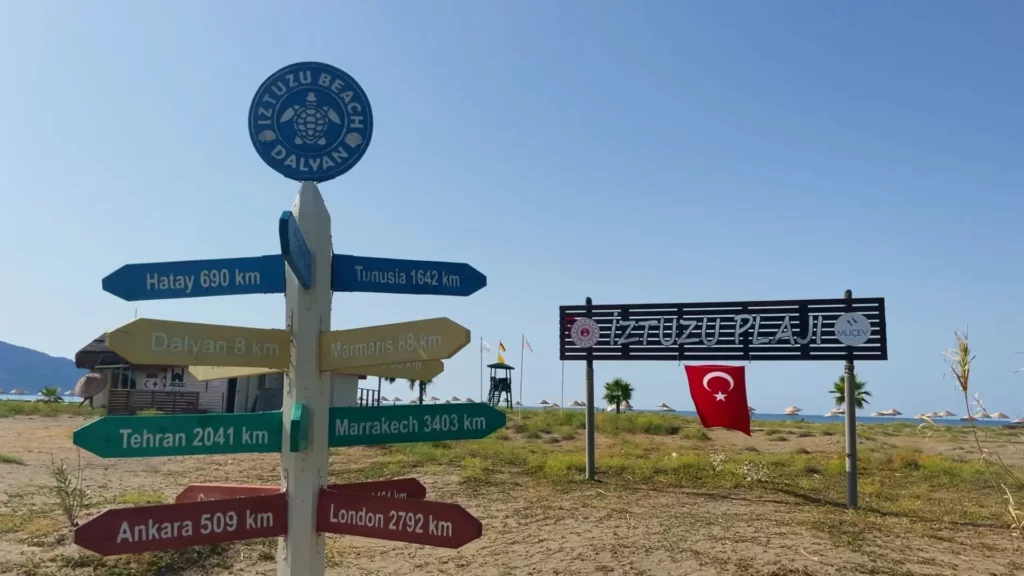 Arriving at the south end of the beach you will immediately find the turtle hospital which is a must visit (don't forget a donation!) You'll find more sunbeds and attendants and what seems like a much more quiet vibe than the north end of the beach. The water here is also extremely clear and shallow. You really can't go wrong with either end of the beach, it's truly one of the most scenic, pristine and relaxing beaches we have ever been to.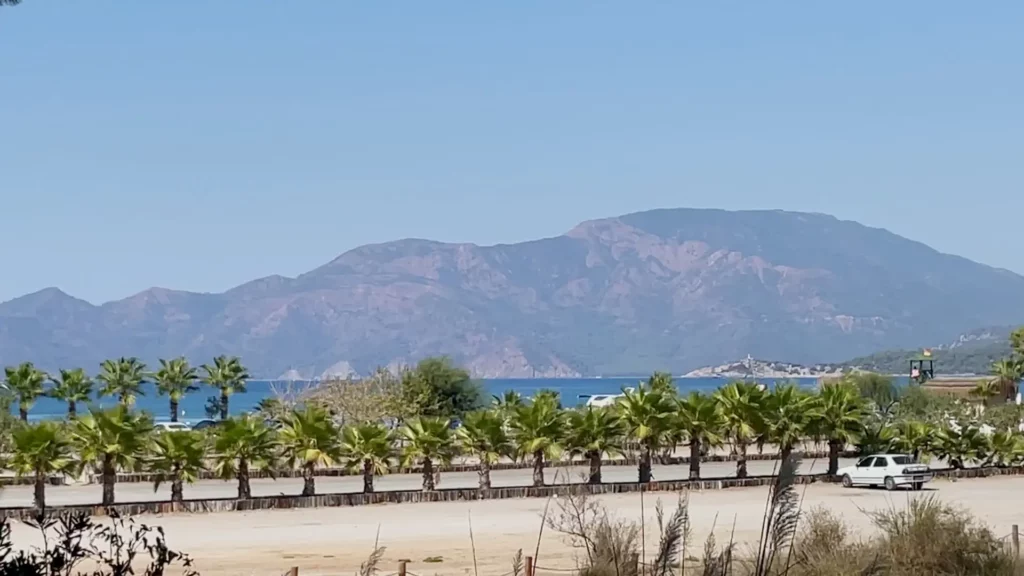 Best Time to Visit Iztuzu Beach in Dalyan, Turkey
When isn't the best time to visit Iztuzu beach? That would be the better question here. During the winter months the water temps might not be ideal unless, Like Angela (Canadian), you're used to polar bear swims. In the town of Dalyan many shops and restaurants close for the winter season.
So naturally anytime between April and October would be ideal. And while not swimmable November – March would still be beautiful for the gorgeous scenery. There never is really a bad time to visit Iztuzu beach
Have you ever been to Iztuzu Beach in Dalyan, Turkey? Do you have other tips or tricks for visiting this amazing location? Did we leave something out? Leave a comment down below and let us know and help other travellers who are thinking of visiting.