Staying in the Kadıköy neighborhood of Istanbul for a month was literally a feast for the senses. We loved the local vibe and found that the restaurants we visited here had few tourists and much better food than the places we ate at in more tourist-y areas in the city. In that month we ate out nearly everyday at establishments ranging from quite pricy to very affordable. This article focuses on the best of the low-cost options so you can enjoy your meals out without breaking your travel budget. If you're interested in other budget ranges, check out this article for our absolute fave restaurants in the area.)
Wow, so glad we found this place! After a casual stroll through Moda park to catch the sunset we stumbled upon Basta Street Food Bar ravenously hungry. We ordered a plate of hummus, the salad of the day and 2 kinds of dürüm, which is a wrap-type sandwich common in Turkey.
The hummus arrived slicked in gorgeous olive oil and served with paper thin flatbread perfect for scooping up all that deliciousness. The salad of the day was spinach, cous cous, cucumbers, tomatoes and sweet chunks of watermelon. We ordered the 'Kuzu' wrap stuffed with slow roasted lamb, paprika yogurt sauce, roasted onions, parsley, lettuce, harissa and the 'Dana' wrap with slow roasted and smoked beef ribs, honey mustard mayonnaise, pickles, purple cabbage. With 2 waters to wash it down the total was ₺140 Lira or about $15.75 USD.
Address: Caferağa, Sakız Sk. No:1, 34710 Kadıköy/İstanbul, Turkey
This site contains affiliate links to products and services. We may receive a commission for purchases made through these links which help keep us on the road and costs you absolutely nothing
Kadikoy Tantuni is an institution in this area, and for good reason. The food is simple, cheap and delicious. Tantuni is a traditional dish from the Turkish city of Mersin and consists of finely chopped meat cooked in a special pan then served in a wrap with parsley, sumac, onions and tomatoes.
The open kitchen gives you the opportunity to see how the dish is made and the staff are understandably very proud of their craft and happy to show you how the food is made. We tried one chicken and one beef Tantuni and shared a foamy ayran (salty yogurt drink.) The wraps were juicy and flavourful and we left very satisfied for a total of ₺48 Turkish Lira or $5.40 USD.
Address: Osmanağa, Leylak Sk. 13/D, 34714 Kadıköy/İstanbul, Turkey
We tried quite a few Donair places during our time in Istanbul and this place was near the top. Their menu is simple as they pretty much only do one thing, döner, and do it right.
You can choose to have your thin slices of succulent, perfectly cooked lamb in a wrap (dürüm döner,) over rice (Pilav Üstü döner) or like we did, served alongside the flatbread and toppings (porsiyon döner) so you can choose your own döner adventure. The plates were very filling and a good value at just under ₺100 or $11.25 USD for both of us.
Address: Caferağa, İmamata Sk. No:7 D:3, 34710 Kadıköy/İstanbul, Turkey
Pide is often described as Turkish pizza and we can see where the comparison comes from, it's a thin bread topped with cheese and toppings, much like pizza. The difference is that pide are formed into a boat-like oblong shape with pointed ends, and folded up edges, making it even easier to top with loads of cheese, turkish sausage, veggies and even egg.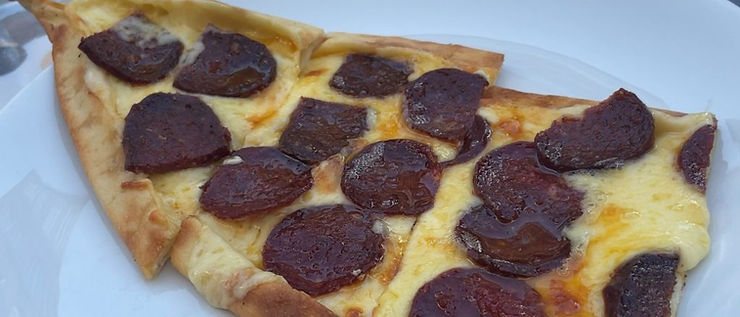 Pide Sun is a casual and unassuming place with lots of outdoor seating along a bustling street just outside of the main area of the Kadıköy produce market, and is a great spot for an easy & delicious lunch or dinner. We only ordered one pide to share but were satisfied with the portion size. With two bottles of water to wash it down the total was a very reasonable ₺52 or $5.85 USD. Address: Caferağa, Şükran Apt, Moda Cd. 67/B, 34710 Kadıköy/İstanbul
Very close to the Kadıköy metro station is a cozy patio with some of the kindest staff we've met in Kadıköy. We had a simple but delicious lunch of a traditional dish that is similar to many other dishes in the region and throughout the middle East and balkans. In Turkey it's called kofte and it's ground lamb and/or beef, shaped into little sausage shapes or patties then grilled so they're charred on the outside and still juicy and tasty inside.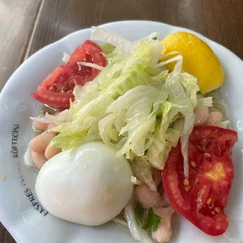 Geoff had the traditional İnegöl Köfte while I had the Kaşarlı Köfte which has some cheese it too. The köfte comes served with fries, the ubiquitous turkish pickled peppers, bread and a gorgeous sauce thick with red chiles and olive oil. We added a bean salad to round out the meal and were so glad we did as the coolness of the lemony beans, tomatoes, lettuce and hard boiled egg dressed with olive oil matched the hot summer day perfectly. The meal was very reasonable priced at ₺76 TKY ($8.56 UDS) for two with two waters (though we began to wish that we had each ordered a beer, it would go perfect with this meal.)
Address: Caferağa, A, Muvakkıthane Cd. No:13, 34710 Kadıköy/İstanbul
This hidden gem is easy to miss as the storefront is just below ground level with only a handful of outdoor tables and a few more inside. They specialize in Gözleme, a traditional flatbread stuffed with a variety of tasty fillings. As you enter, there are a few Turkish ladies making the stuffed flatbread on a flat iron cook-table right at the front of the restaurant. The food they make is so delicious it will make you wish you had a Turkish grandmother of your own.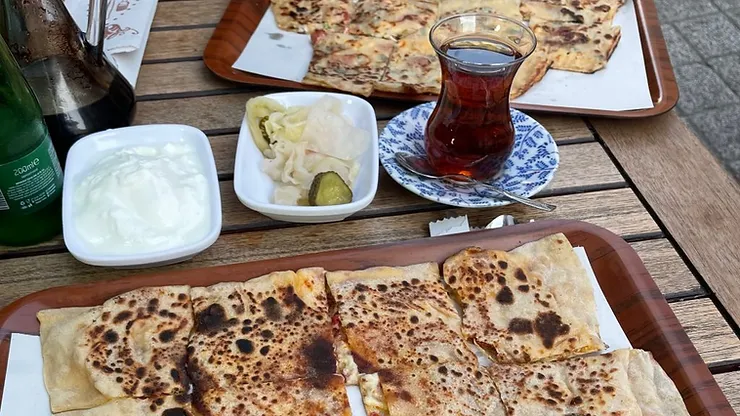 Geoff started with a cous-cous salad then had a gözleme stuffed with sausage, cheese and egg. I had one stuffed with feta cheese, tomato, black olives and spinach. They come served with yogurt and butter to spread on the flatbread and pickled vegetables. With 2 bottles of mineral water and a cup of tea came to ₺55 (about $6.50 USD.)
Address: Caferağa, Sarraf Ali Sk. No 16 /A, 34710 Kadıköy/İstanbul, Turkey
Meşhur Menemenci is a casual place for a simple and inexpensive breakfast. As the name suggests, the specialty is mememen, which is a Turkish breakfast staple made with eggs, tomatoes, green peppers and spices. I really wanted to try menemen as I'm a huge fan of eggs at breakfast, and have heard menemen described as 'Turkish scrambled eggs', so I'm already sold.
We both ordered the Karışık Menemen, which included cheese and Turkish sausage mixed in. The dishes came hot from the kitchen and served with large chunks of bread for sopping up the saucy egg mixture. I guess I expected a more 'eggy' dish so was surprised at how much the fresh flavours of the tomatoes and peppers really shone through and were the focus of the dish. Overall a very enjoyable and affordable breakfast ₺56 TRY total ($6.30 USD) for two with tea. Address: Osmanağa, Pavlonya Sk. No:14/a, 34714 Kadıköy/İstanbul
Eating on the Cheap in Kadıköy
You don't have to look too hard to find inexpensive but excellent food in Kadıköy, there are lots of budget friendly options to choose from. If you've visited any of the places above or if you have a favourite that we left off the list, let us know in the comments below.
You don't have to look too hard to find inexpensive but excellent food in Kadıköy, there are lots of budget friendly options to choose from. If you've visited any of the places above or if you have a favourite that we left off the list, let us know in the comments below.
Want to join a local to find the best eats in Istanbul?Check out these highly rated food tours