Wondering what and where to eat in Hurghada Egypt? Hurghada had some surprising dining options. From traditional Egyptian dishes to international options, we spent 3 weeks eating our way through this Red Sea beach resort town. Here are our picks for the best restaurants in Hurghada.
This site contains affiliate links to products and services. We may receive a commission for purchases made through these links which help keep us on the road and costs you absolutely nothing
Granada Restaurant
Just South of the main Sheraton Road strip, this polished eatery offers a world class brunch. We sat in comfortable booth style seating overlooking the sparkling Red Sea. The waiter suggested the "Egyptian Breakfast" and an omelette with cheese, vegetables and basturma, which is an Egyptian cured meat.
The Egyptian breakfast blew us away. We love a collection of small dishes at brunch, and the Egyptian breakfast didn't disappoint. The traditional Foul soup (don't let the name put you off…and it's pronounced 'fool') is a spectacularly hearty and comforting stew of fava beans and warm spices. The felafel were probably the best I've ever had, crisp and sprinkled with sesame seeds on the outside, and green with fresh parsley inside. The cheese and tomato dip was a pleasant surprise, with fresh pita to scoop it all up. To round off the meal there were fried slices of eggplant.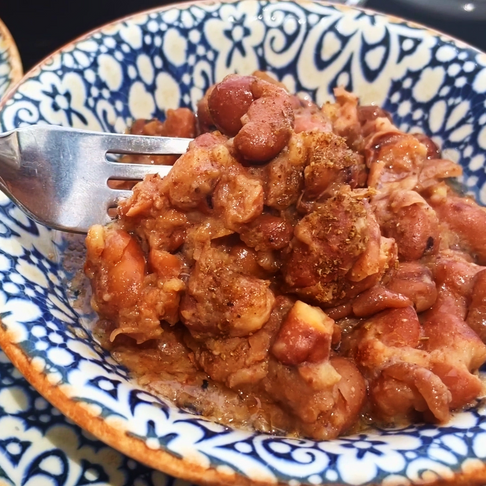 The omelette was fluffy and delicious, with the basturma lending an unexpected smoky, meaty flavour to the dish. The waiter told us the basturma is similar to pastrami, but we found it to be saltier and more savoury. Service was friendly and fast and the staff were eager to show us their rooftop patio which opens later in the afternoon with more of an evening bar/cocktail vibe.
Granada isn't the cheapest option here in Hurghada. The meal as described above with 2 cafe lattes was 480 egyptian pounds (about $26 USD.) This is less than what I would pay for a similar meal back in North America or Europe, but expensive by Egypt standards.
Red Sea Prince
By far the best 'bang for your buck' we got in Hurghada. This unassuming place facing the busy Sheraton Road strip shocked us with the value we got for our money. We started with a fresh greek salad dotted with creamy feta. For our main we shared a seafood platter for two.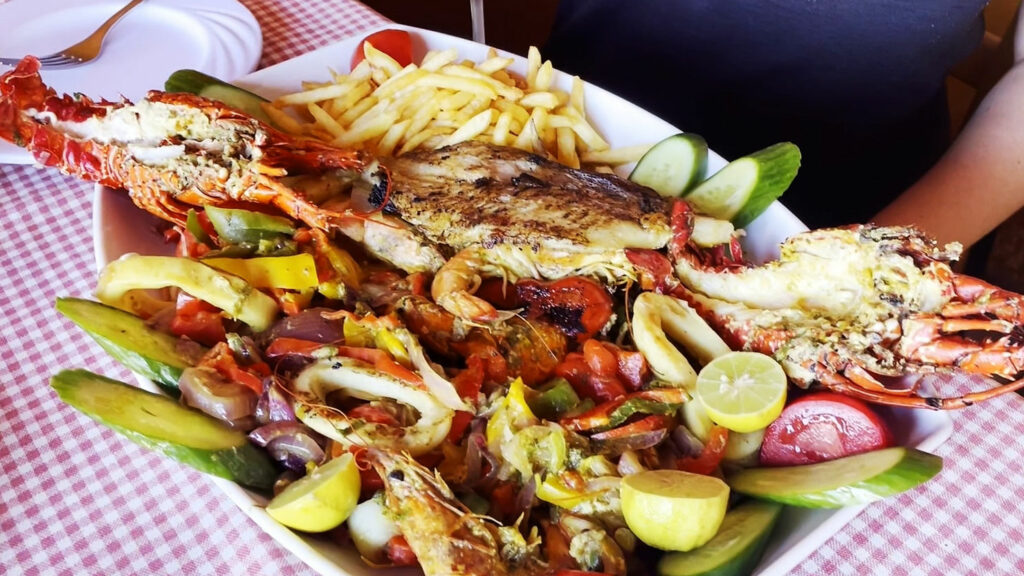 The seafood platter came with 2 small lobsters, a large piece of grilled fish, fat calamari rings and handfuls of shrimp and veggies bathed in a delicious curry-like sauce. Tons of seafood and the price was astounding. 250 Egyptian pounds (14 USD)! For this kind of value we'll certainly be visiting again.
King Grill
We stumbled upon this place in the Touristic Villages area on accident for lunch and it was entirely empty, so our hopes weren't high. But wow, this place really impressed us with the obvious quality of it's food!
We started with 2 fresh juices, date juice and mango juice. The mango juice was thick and obviously just fresh pressed, like biting into a fresh, juicy mango. The date juice was a huge surprise though as we've never tried this before. Thick and creamy (maybe they added milk?) it tasted like a sweet, date flavoured milkshake. Absolutely delicious.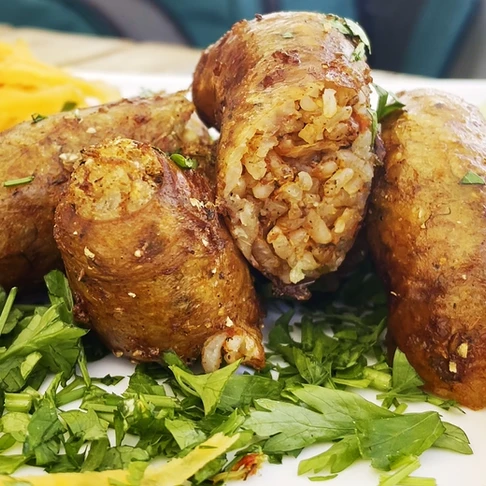 Next was a selection of appetizers which we'd also never tried before (we're pretty new to the food of the region.) Mombar is a sausage stuffed with veal, rice and vegetables. It was savoury and deliciously spiced, but perhaps a little dry due to the rice. The Cheese Sambusek are crispy triangles of a filo dough like wrapping stuffed with a salty cheese. They were cripsy, cheesy, slightly spiced and fantastic. The last appetizer was Kobeba, similar to Kebbeh they are ground meat balls coated in a cracked bulgar coating and deep fried until cripsy brown.
For our entree we ordered Hawawshi and it was the only disappointing dish of the day. The outer pita was crispy and delicious, but the meat filling was flavourless and uninspired.
The entire meal cost 260 Egyptian pounds or about $14 USD.
Moby Dick
We found Moby Dick researching where to find (and eat!) camel meat here in Hurghada. I had an uncomfortable ride on one of these lovely creatures in the Sahara desert in Morocco and wanted to exact retribution by eating one of his kin. Jokes aside, we love to try new things so when we heard camel would be on the menu here, we had to try!
Since it was our first time trying camel, we opted for two different preparations of the meat so we could get a feel for camel as an ingredient: Camel steak and camel meatballs. The camel steak (300 E£ or approx $16.20 US) was cooked medium-rare, smothered in a black peppercorn sauce and served with fries and veg. It was surprisingly delicious and I'm not sure I would notice the difference between camel and beef in a blind taste test. The only real differences in my opinion were the odd shape of the steak and the fact that the camel meat had a different 'grain' and slightly more fibrous texture than beef.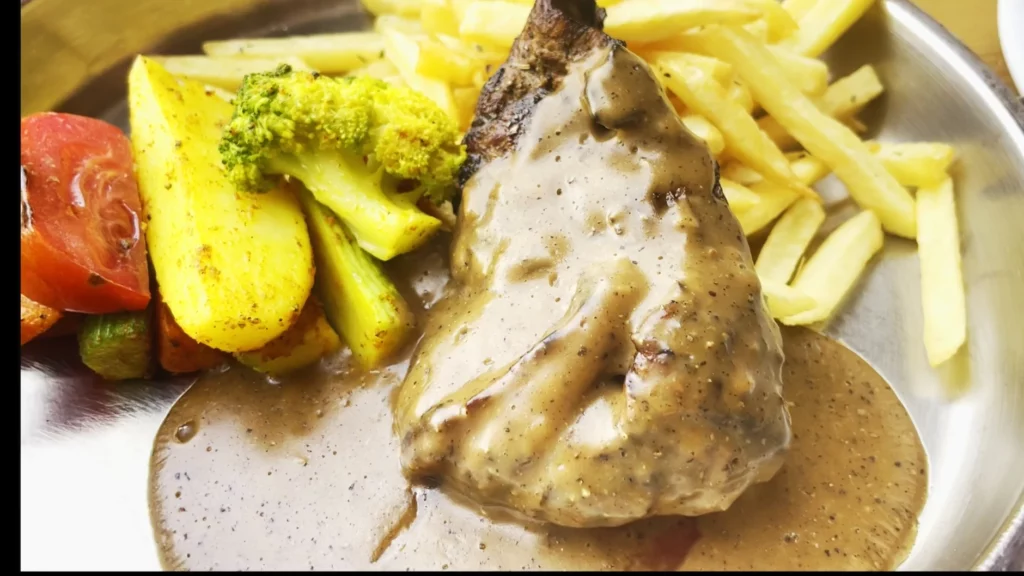 The meatballs (240 E£ or approx $13 US) were also indistinguishable from beef and they were delicious. Soft and juicy, stuffed with cheese and smothered in a well spiced tomato sauce and served with rice and roasted veg.
GAD
If you're looking for something local, cheap and easy, Gad is a solid choice. Gad is an Egyptian fast food chain with a massive menu of Egyptian staples. You can't miss their large patio on Sheraton road as it is always busy with locals and tourists having a bite.
We ordered a kebab & kefta mixed plate with salad and rice and a plate of chicken shwarma. The chicken shwarma was tasty, a bit salty and had the crispy meaty bits that I love about shwarma. The kebab and kefta were good and the portions were large.
It's certainly not fine dining but if you're looking for something fast, filling and inexpensive, Gad is a good bet. The total meal cost 200 E£ (approx $10.83 USD) with water, which is a pretty good deal for a filling lunch of dinner for 2!
What's your favourite restaurant in Hurghada? Did your favourite spot to eat make the list? If not, drop your fave in the comments below!
Now that you know where to eat in Hurghada, check out some great places to stay:
And for fun things to do in Hurghada, check out the deals below!