It can be difficult to find the best restaurants in Dubrovnik, there are a lot of low quality, tourist oriented restaurants. Dubrovnik, Croatia's stunning medieval walls get all of the attention, but the city (and Croatia in general) has a very underrated cuisine and food culture. Here are some of the best restaurants and must-try dishes to have an authentic Croatian food experience in Old-Town Dobrovnik.
This site contains affiliate links to products and services. We may receive a commission for purchases made through these links which help keep us on the road and costs you absolutely nothing
Located in the heart of the old town just off the Stradun (main street). We stumbled upon this location looking for something specifically Croatian and not too touristy. Man did we hit the jackpot! As the name implies, they specialize in Croatian tapas and all Croatian ingredients.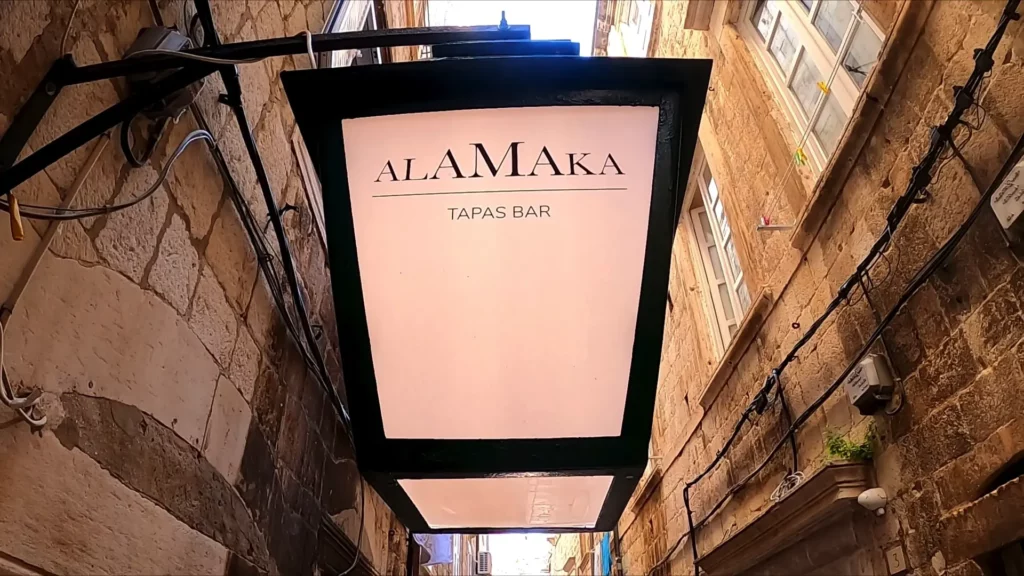 We ordered a tapas platter, filled with local Croatian meats, cheeses, bread, marinated hard boiled eggs, cheese-stuffed peppers, olives and an assortment of other pickled vegetables. Yes indeed, this place qualifies as one of the best restaurants in Dubrovnik
Goat and matured sheep's milk cheeses sat alongside a delectable assortment of olives, pickled onions and marinated eggs. The meats included homemade pancetta, 2 and 3 year old aged pršut (prosciutto) and homemade Slavonian (northern Croatia) sausages. Angela and I have spent time in both Italy and Spain and we can confidently say that Croatian cured meats rival any Italian Prosciutto or Spanish Jamon. As you can see from Angela's face, the Slavonian sausages were her favourite. And well, I just look stupid but here we are.
Of course you wash all of this down with another extremely underrated product, the beautiful Croatian red wine. Seriously, before visiting Croatia for the first time a few years ago I was told over and over how bad Croatian red wine was. If that was the case, Croatia has upped it's game by miles since. The wines of Croatia are very respectable and I quite enjoy them. And of course when in Croatia do as the Croatians do and finish off your meal with a rakija. On this night Angela had viljamovka, a pear brandy and I had šlivovica, a plum brandy. Fair warning it will burn your tonsils off, but you hardly notice after a bottle of wine.
Where to Stay in Dubrovnik Old Town
Luxury Accommodations –Stayeva 11 – Within the old town walls you won't find luxury hotels, but you will find beautiful apartments and guest houses. This is one of them.
Mid Range Accommodations – Dubrovnik Rupe Apartment – Here you will find the best views of the medieval walls you will find in the old town.
Budget Accommodations – La Vita Bella IV – Centrally located homey place within the old town walls. A modern and stylish apartment with great views
For more places to stay in Dubrovnik, you can check the latest prices on Booking.com
Behind the Cathedral of the Assumption of the Virgin Mary you can find Bura Bistro. Nestled into one corner of a gorgeous plaza that is filled with other dining establishments, this place came highly recommended to us and they delivered. We only ordered two appetizers on this evening, but from the presentation and flavour we can't wait to return to Dubrovnik to try more of their dishes.
This first dish was a chicken liver parfait with shaved pistachios and a kumquat chutney with pickled beet root. Before we left Canada if you would have asked me if I would eat liver of any kind, my answer would have been hell no. Sorry, I was traumatized as a child after being forced to eat beef liver. Since we started this world tour of ours I have eaten liver of multiple kinds in multiple countries and have loved it.
No exception here, the chicken liver parfait is rich and fatty. Combined with the tartness of the kumquat chutney and the acidity of the beet root balances this dish perfectly.
Our other plate was a swordfish and shrimp ceviche. The ceviche had been marinated in pesto oil and was bursting with the flavour of basil. The combination of the pesto along with the citrus used to "cook" the ceviche was top notch.
We first encountered this restaurant while on holiday a few years ago in 2019. On our first night in Croatia we made a reservation and when we arrived the place was packed, even though it was shoulder season. After being seated, we were approached by a young woman named Ana, who described some of the restaurant's specialties.
Ana gave us detailed information of the house-special dishes and described the sourcing of local ingredients and the preparation of the dishes. Ana then asked if we had any questions about the menu or wine list and I mentioned how much negativity I had heard about Croatian red wines so I decided to pick her brain on the subject. Her eyes widened and the biggest smile came across her face. As luck would have it, Ana is also a trained sommelier and teaches wine courses to both Croatian and International students.
She proceeded to explain Croatian wine varietals as well as their regions of growth, fermentation and aging processes. When she talked about the food and wine you could see and feel her absolute passion for what she does. We had never seen such dedication and commitment.
Ana shows why she has one of the best restaurants in Dubrovnik
Ana excused herself and returned moments later with multiple glasses of red wine for us to sample. Angela and I partake in a bit of each. Some we liked and some just weren't really our style. Ana listened to our likes and dislikes and off she went, back to the wine cellar. She returned again with even more glasses of wine. As we begin tasting she steps away only to return a few moments later. You guessed it, she returns with even more wine. We finally settled on one we really loved and she left to bring a bottle and fresh glasses.
At this point, Angela and I are discussing that there is no way that Ana is just the restaurant sommelier or server at the restaurant. She must be the manager which would have been impressive enough. When Ana returns we ask and she tells us that it is her family's restaurant. The owner of a packed restaurant took it upon herself to spend so much quality time with a couple of dorky tourists that she very easily could have just let a server deal with. She showed such committment to ensuring we we had the right wine, we knew that her committment to the food she served would be amazing too and we honestly had the best dining experience of our life that night.
Croatia round 2
So naturally, when we decided to spend the summer of 2022 in Croatia we knew we had to make our way back here. And once again, Ana nailed it. We wanted to film at Kopun for our YouTube channel so we reached out before-hand and made arrangements to meet Ana for lunch. Kopun is located opposite the entrance of the Church of St. Ignatius and next to the Jesuit staircase in the old town. For you Game of Thrones fans, the Jesuit staircase is where Cersei started her infamous walk of shame.
Appetizers
After catching up for some time and being blown away that she remembered us from that evening 3 years ago, Ana made some recommendations for our lunch. She started us off with a couple of appetizers. The first being a traditional summer dish of baked and marinated bell pepper with a sweet potato cream and salty cheese served cold. Heavenly!
And the second dish is a Kopun (capon) ragu with truffles and homemade, cheese-filled gnocchi. If you are wondering what kopun or capon is, it's a castrated chicken. They do this because the hormones of a male chicken make the meat tougher and when you take away the hormones, the kopun has the richest and fattiest of chicken meat. This dish will knock your socks off.
Main Course
For entrees we had a brudet made from an assortment of shellfish and fish. Cooked in a tomato based sauce with white wine and spices. Finished off with polenta cubes.
Our other main was a baked cockerel or young male chicken. Served with a large side of pan fried potatoes, zucchini, mushrooms and peppers. All of this drizzled with the drippings of the cockerel. Both of these dishes were to die for.
Dessert
And finishing off with dessert, Ana, served us paradiso. Traditional in Dubrovnik homes as it could be made cheaply & easily. This one consisted of whipped eggs, lady fingers and bitter oranges. And a perfect way to end this meal.
Ana perfectly paired wine with each course of the meal, taking the meal to the next level. After making me a fan of Croatian red wine in 2019, she made me a fan of white wines on this trip. Ana also took us on a tour of the construction progress of a new establishment slated to open in 2023 within the old town. I will update this article when her new location is open. If you are ever in Dubrovnik you MUST try Kopun. And say hi to Ana while you are there.
We are biased here, but Kopun is not only one of the best restaurants in Dubrovnik, We feel it is the BEST restaurantin Dubrovnik
Looking for fun things to do in Dubrovnik?
Tucked into a quiet lane running alongside the medieval walls of the old town is where you will find this beauty. First opened in 2010 in Zhuhai, China (you read that right) by Chef Vedran Perojevic. Chef Perojevic later returned to his hometown of Dubrovnik where Azur now makes what he refers to as "CroAsian" cuisine. Mediterranean fare with an Asian twist. Azur is already recognized by Michelin guide and others. When in Dubrovnik, check them out.
We kicked the evening off with Pork Belly tacos. Fresh made tortillas stuffed with crispy and fatty pork belly, vegetables, chilis and topped with sriracha mayo. I could eat a dozen of these.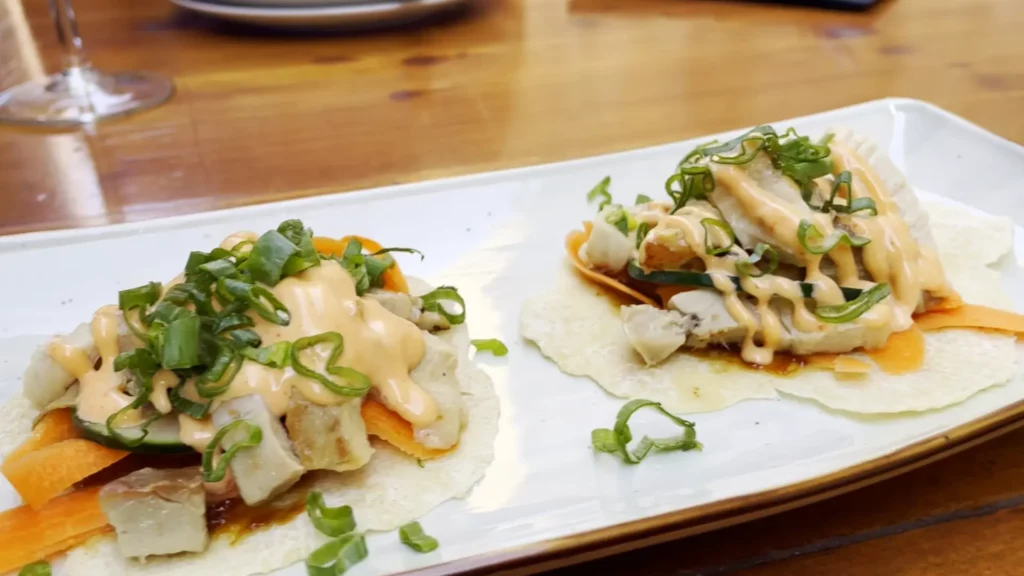 For our mains Angela had a "CroAsian" laksa. A twist on the classic Malaysian/Singaporean dish with local mussels, squid and shrimp. A beautifully creamy and rich coconut broth with an Asian style flat noodle. It is such a beautifully prepared dish.
I had a Thai chicken green curry, mainly because I was hoping for something spicy. I enjoy spicy food and it's just not something you find in Croatia. They were a little unsure when I told them I like VERY spicy so they brought a side-plate of extra spiced green curry broth that I could add to the dish if I needed. Which was great, because once I mixed to my preferred heat level this Thai green curry was one of the best I have ever had.
This is a can't miss location if you're looking for one of the best restaurants in Dubrovnik old town!
So this establishment isn't in the old town, but it is a short 5 minute drive outside. And if like us, you crave a good cheeseburger, this spot is a must. Situated on a hill overlooking a small forest with views of the Adriatic we were told that Cezar had the best burgers in Dubrovnik. And they didnt dissapoint. Definitely one of the best restaurants in Dubrovnik
We ordered an 'el matador burger' stuffed with beef patties, cheese, peppers, and jalapeños along with your traditional toppings and three different sauces.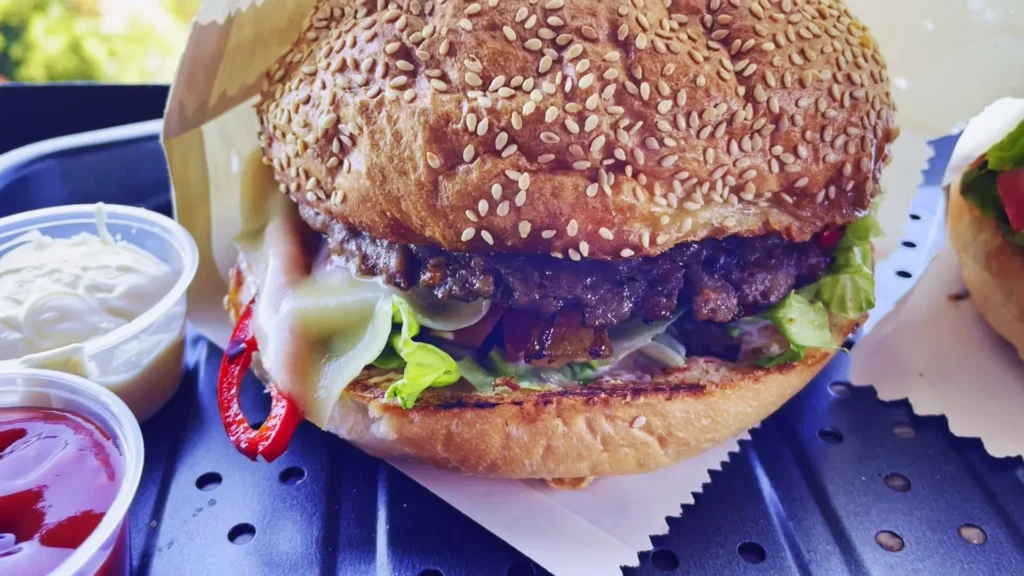 Our other burger was a kaymak burger. Kaymak is a dairy product, similar to clotted cream or soft cheese and here the kaymak was stuffed inside of the beef patty. When you bit into it, a burst of salty cheesy goodness floods your mouth.
If you're in Dubrovnik and just need a good cheeseburger, head to Cezar street food and have one of the best burgers you will ever have in your life.
Have you been to Dubrovnik? Did we leave your favourite restaurants off the list? Leave a comment and let us know and help other travellers find the best restaurants and dishes in this magical city.