Looking for the best restaurants in Dalyan Turkey? Here are our top picks for where to eat delicious Turkish food in Dalyan that you should not miss on your holiday in Turkey!
This site contains affiliate links to products and services. We may receive a commission for purchases made through these links which help keep us on the road and costs you absolutely nothing
Situated along the Dalyan river this is a must for Turkish Breakfast. If you have never had a Turkish breakfast, get ready for a feast. Turkish breakfast is like no other you will have anywhere in the word. With what seems like dozens of small plates of tasty nibbles accompanied with endless pours of traditional Turkish Çay (tea).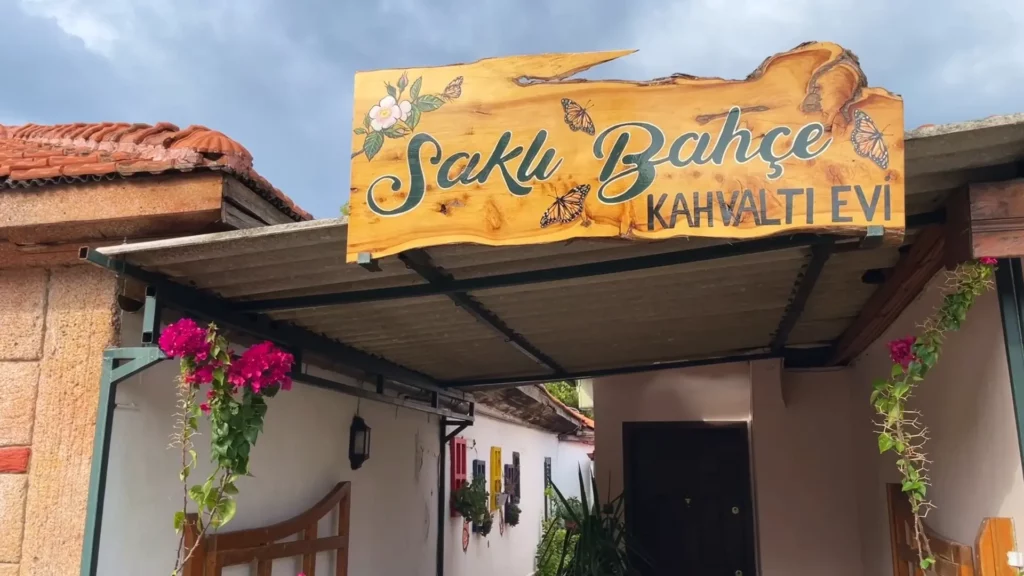 What is included with a Turkish Breakfast? Here we go! Fried eggs, fresh tomatoes and cucumbers, pancakes and assortment of jams, honey, kaymak (more on this later), butter, olives, gözleme (stuffed Turkish pancake), cured meats, pastries and an assortment of cheeses. I am sure I am leaving a few things off. Sakli Bahçe in particular serves large roasted sweet peppers smothered in a yogurt mixture, which is amazing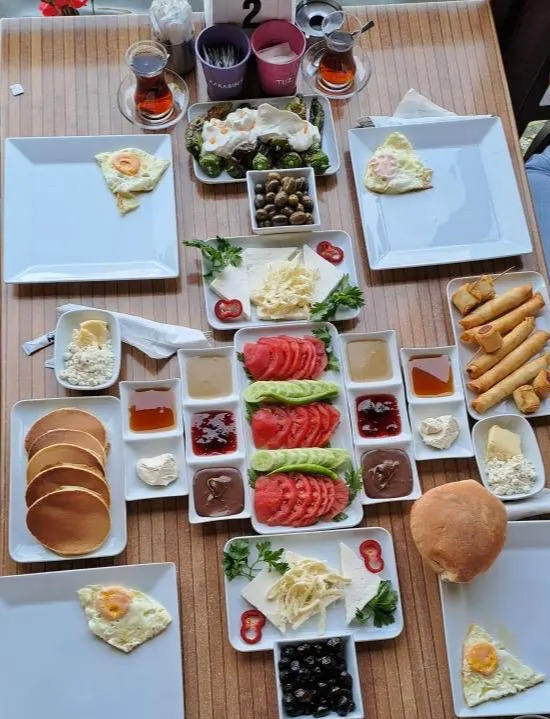 *photo credit to Sakli Bahçe
Now let's talk about some of the items you may not be familiar with. Starting with Sigara Böreği. Stuffing a long cigar-shaped pastry (Sigara) resembling an egg roll with salty, crumbly cheese and deep frying it. And gözleme, a Turkish pancake that is unleavened and the only ingredients for the dough are flour, salt and water. And you can have them stuffed with whatever your heart desires.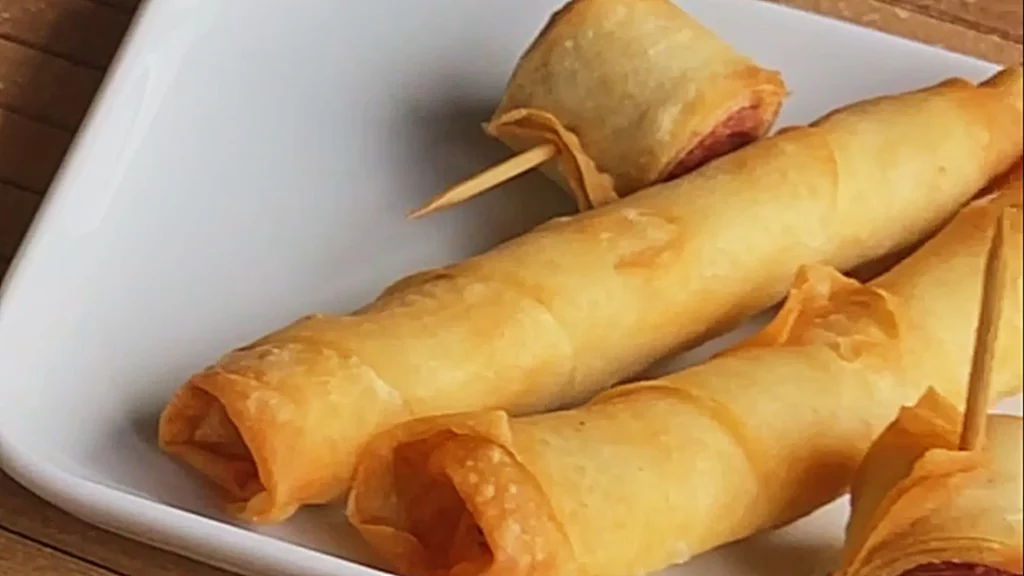 Next up is the sweet grilled peppers and the yogurt for dipping. But what I really want to tell you about is the Bal and Kaymak. Bal is Turkish for honey and Kaymak is a buffalo's milk clotted cream that is to die for. You start off with freshly baked bread or homemade pastry and pull off a small chunk of the Kaymak and then dip into the honey. a literal party in your mouth of delectable sweetness.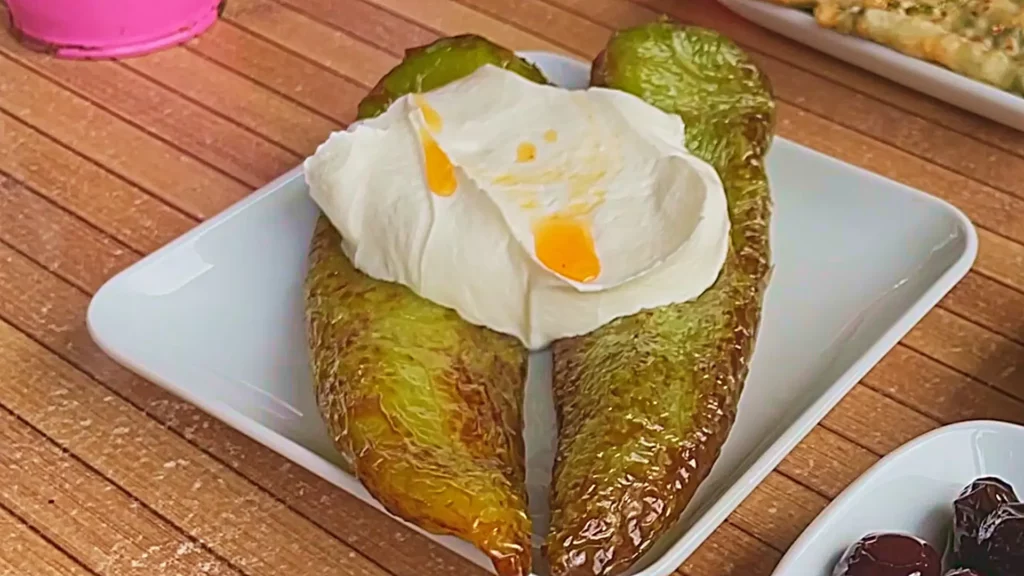 So I know you are thinking that this can't be real. Nobody is giving you that much food for breakfast, but they do, and it is why Turkish breakfast is absolutely the best breakfast you can have. And if you are in Dalyan, Sakli Bahçe is the place to find it. This place definitely fits the bill for best Turkish food in Dalyan, make sure to come hungry!
Where to Stay in Dalyan
Luxury Accommodations –Michelangelo Boutique Hotel Dalyan – Luxe boutique hotel with lush gardens, pool and hammams and spa treatments to treat yourself
Mid Range Accommodations – Hotel Happy Caretta – Great location and views along the stunning Dalyan river, and breakfast is included!
Budget Accommodations Karaca Apart Hotel Centrally located homey place with a delicious breakfast featuring local honey!
For more places to stay in Dalyan, you can check the latest prices on Booking.com
This small establishment located off of Bar street in Dalyan takes kebab to a new level. We came here for two dishes in particular and they did not disappoint. It is worth mentioning that Farat and his staff go above and beyond in making sure you are happy with your meal, which is a common theme in Dalyan.
First up is the Beyti Kebab. A mixture of spiced lamb and beef skewered and grilled then wrapped in a Naan bread, stuffed with cheese and finished in a hot brick oven. After the cheese is melted and the naan cooked thoroughly, it is sliced and laid upon a spiced yogurt mixture and covered in a homemade tomato sauce. To top it all off is a hefty drizzle of browned butter.
When is adding fat to a dish ever a bad thing? This was by far the best kebab of any kind I had while I was in Turkey.
Next is the Alinazik Kebab, which is mashed grilled eggplant with a garlic yogurt mixture set into a bread border and topped with adana kebab. The adana kebab adds a nice touch as it is a little spicier than most kebabs you will find. And once again drenched in that browned butter. OMG!!!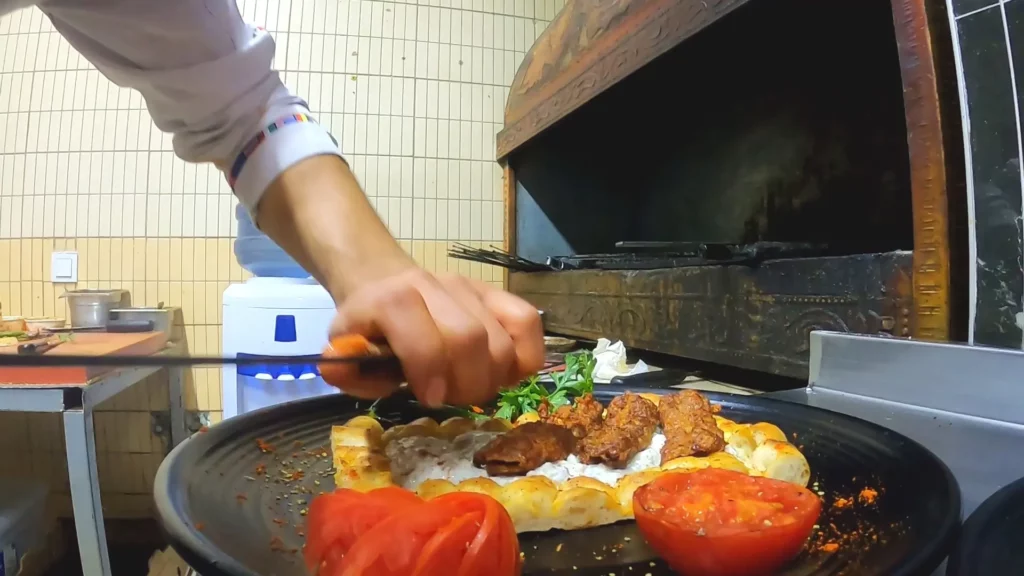 If you're looking for awesome kebabs, you will find it here. Sosyete fits the bill for one of the best restaurants in Dalyan Turkey.
This quickly became one of our favourite restaurants in Dalyan and we ate here more than anywhere else. Nobody is going to mistake this place for exotic food or fine dining. But what you will find here is traditional, home-made, comfort food. The name indicates that they make pide, which is a Turkish pizza, which they do as well as donér kebab.
But what we regularly came here for was the hot table. We were first introduced to these lokantasis in Istanbul and sought them out afterwards at every town we went to. Upon walking in, you see a multitude of dishes that the chefs have prepared that day. Everyday is something new and everyday it is delicious.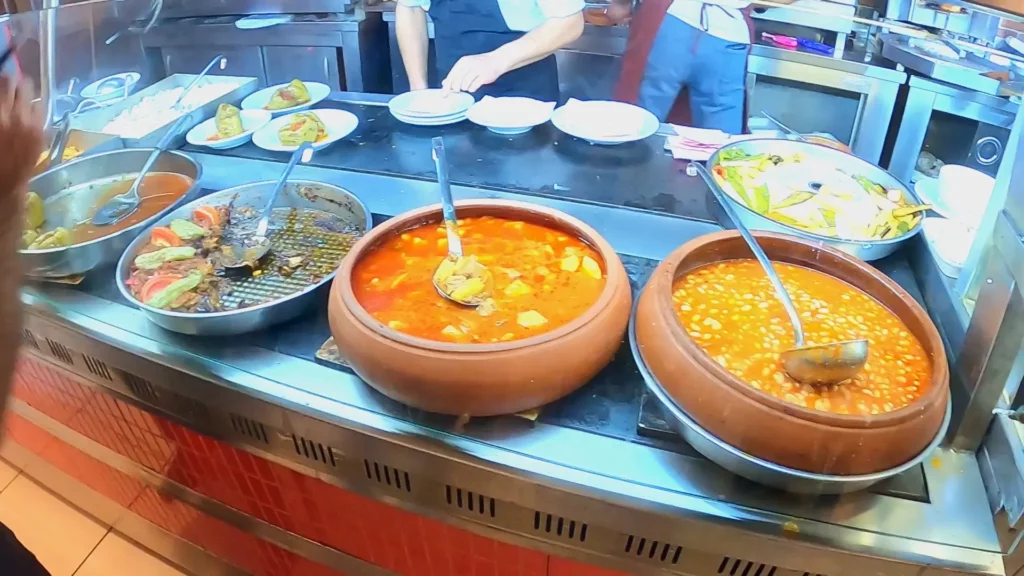 We honestly do not know the Turkish name for any of the dishes we ever had there. But on this evening we started off with a fresh salad, stuffed peppers and rice.
We weren't done there though. The food is just too tasty not try a bit of everything. So we also ordered an eggplant and minced meat dish, and a beef stew. Every meal comes with a plate of spicy pickled chili's which we both love.
In our opinion, Çağri Pide is one of the best restaurants in Dalyan for finding some homestyle Turkish food.
Looking for fun things to do in Dalyan?
Known for great Turkish food, this establishment in the center of town attracts many diners. Established in 2011 by a family of brothers that has been bringing tourists and locals delicious Turkish food since the beginning.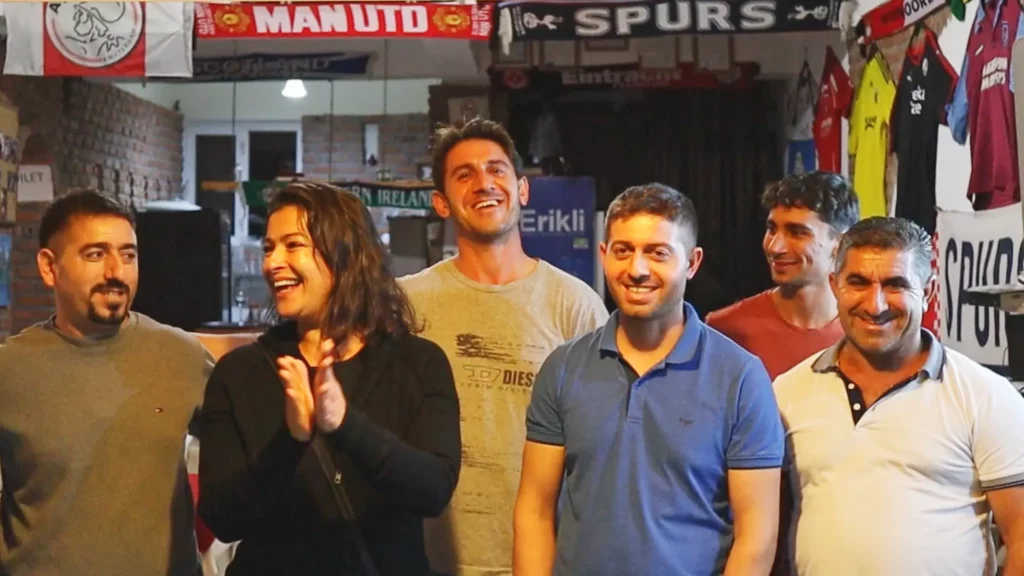 They do many dishes well, but they are particularly known for one dish that stands out. It must be ordered 24 hours in advance because of cook times as each portion is made by request only. And that is their famous leg of lamb. Cooking it for several hours at low heat makes the lamb fall off the bone tender.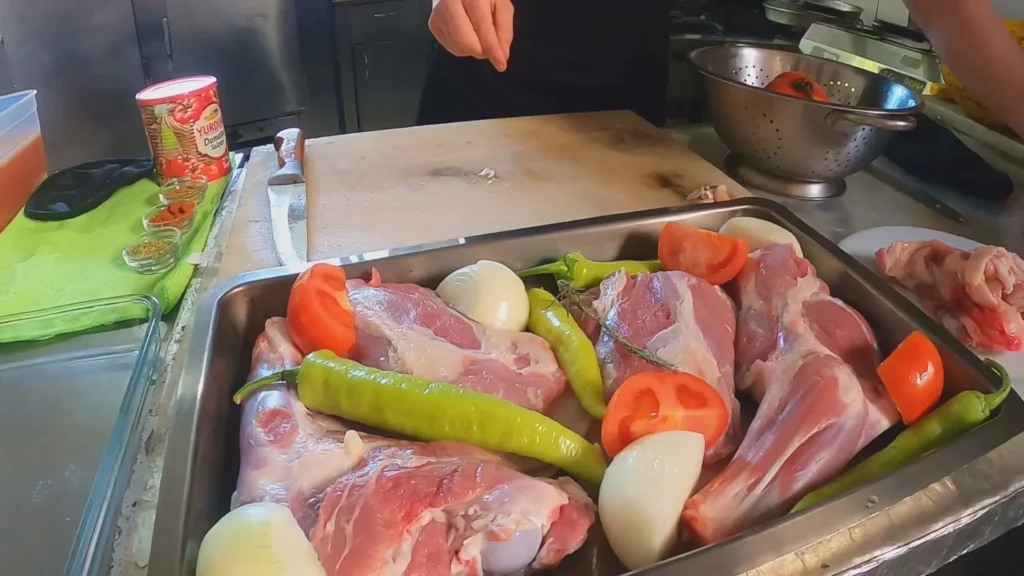 Tomatoes, peppers and onions combined with the lamb in a large roasting pan with homemade tomato sauce and spices. Slowly roasted for several hours.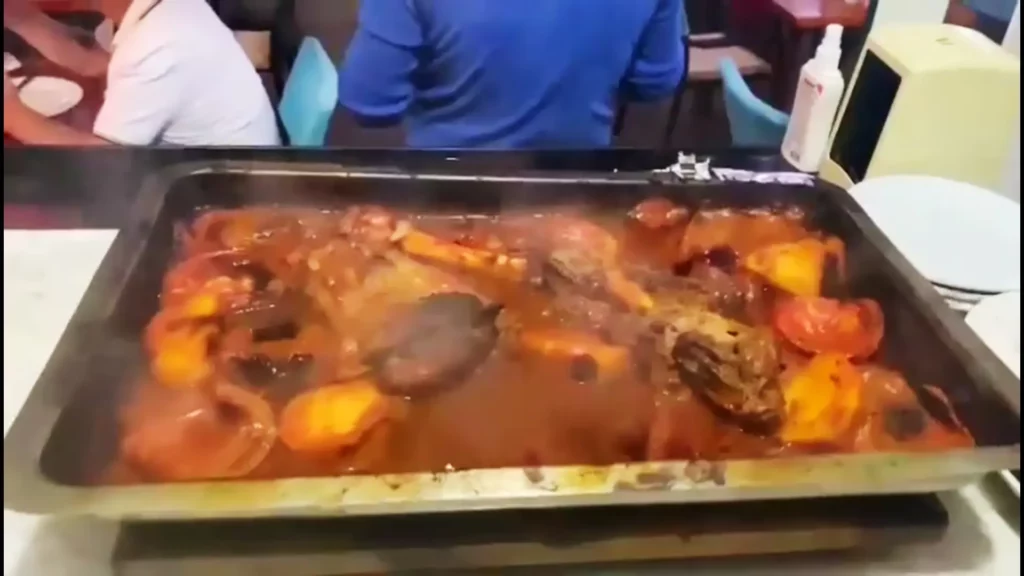 *Photo above Credit to Natural Paradise
Served with potatoes and a glass of wine of your choosing and you have one of the best Turkish meals you can get your hands on.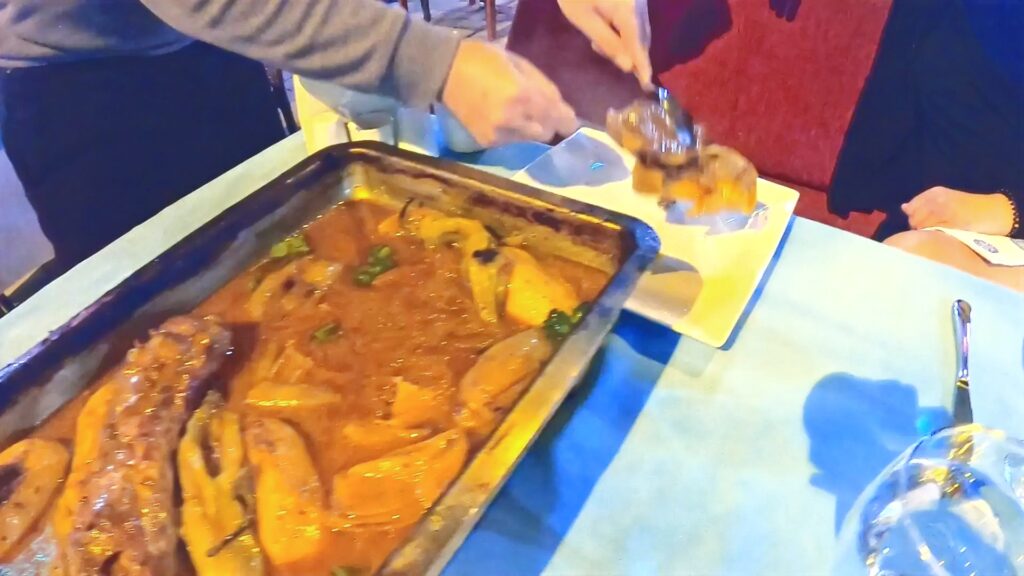 If in Dalyan, be sure not to miss this mouth watering dish for some of the best Turkish food you can find.
If you feel like you have already read about Çağri it is because you have. This is the bother to Çağri Pide and they are located right next door to each other. This side of the restaurant specializes in seafood.
This simple but perfect meal we had on this night of a fresh salad and bread, prawns in a garlic butter and plate of Hamsi Tava or fried anchovies. Of course we can't forget a bottle of Rosé. Don't judge, Angela was feeling like a rosé, and what baby wants, baby gets!
If your looking for great fish dishes, Çağri BALIKNAME is the place in Dalyan for the best Turkish seafood.
A small bakery located near the dolmus station where we had heard about a couple of Turkish deserts that we must try. One being an Izmir bomb and the other being a tahini tart.
Ganache-filled Izmir bomb dough creates a soft, cookie-like treat. So rich and delicate and beyond delicious.
The tahini tart reminded us of one of the breakfast spreads you get with a Turkish breakfast. A tahini, sesame and molasses spread we would spread on bread or fresh pastries. Don't miss this tart.
If a sweet tooth is your thing, you can't go wrong with either of these. They definitely hit all the right spots for best Turkish food you will find in Dalyan.
What's your pick for the best restaurant in Dalyan? If you've been to Dalyan and we left your favourite restaurant off the list, leave a comment below and let us know what we missed and to help other travellers on their journey to Turkey!