Ston & Mali Ston Croatia are lesser known gems along the Dalmatian coast of Croatia. The towns of Ston and Mali Ston (Which means 'little Ston') are known for their stunning medieval walls and amazing seafood that comes fresh from nearby oyster and mussel farms. The Great Wall of Ston is a must-see attraction (it is the longest fortification system in Europe!) Mali Ston is a small fishing village, known for outstanding seafood restaurants and local delicacies such as oysters, mussels, and fish. Planning a visit to Croatia? Don't miss these two less-visited towns along the Pelješac peninsula.
This site contains affiliate links to products and services. We may receive a commission for purchases made through these links which help keep us on the road and costs you absolutely nothing
History of Ston & Mali Ston
The history of Ston & Mali Ston Croatia dates back thousands of years. Early settlers included the Romans who established a colony here in 167 BC. Ston was 'officially' founded during the 14th century by the Republic of Ragusa, a powerful empire centred around the famous nearby city of Dubrovnik. At that time, Ston was an important centre for salt production and trade, as well as a strategic location for defending against the threat of invasions from the Ottoman Empire.
In the 15th century, Ragusa began to construct the Great Wall of Ston, a fortification system that stretches for 5.5 kilometres and is considered the longest fortification system in Europe. The walls were built to protect the town, the valuable salt pans and the surrounding area.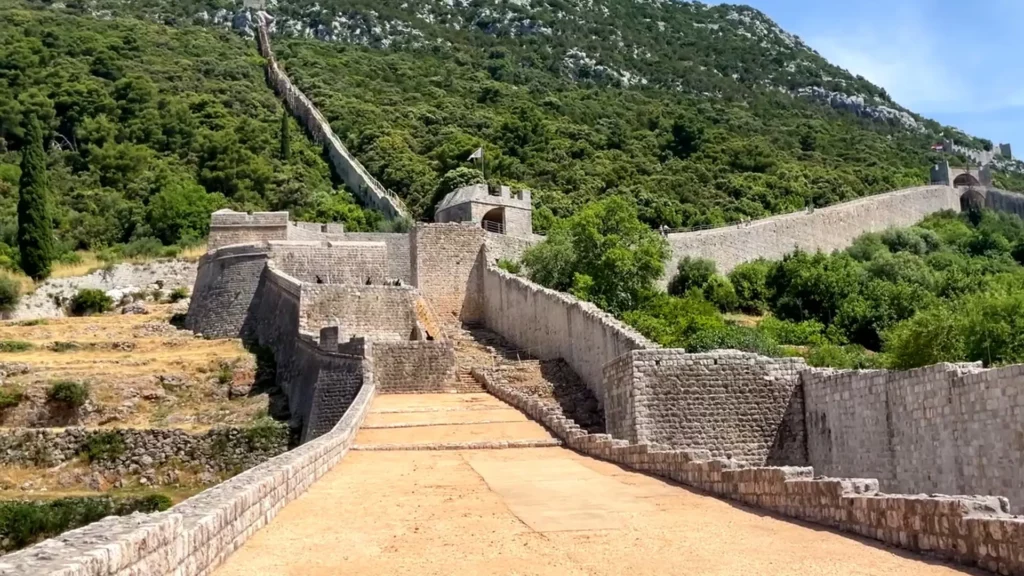 Ston remained under the control of Ragusa for centuries, until the city-state was conquered by Napoleon's forces in 1808. At that time Ston and Mali Ston Croatia became part of the Austro-Hungarian Empire, and later part of Yugoslavia. After the fall of Yugoslavia in 1991, Ston became a part of today's independent Croatia. Ston and Mali Ston Croatia have a lot to offer visitors, but aren't nearly as busy as the nearby tourist hubs of Split, Hvar and Dubrovnik.
Where to Stay in Ston & Mali Ston Croatia
Luxury Accommodations –Private Pool Villa – You won't find any "luxury" accommodations within Ston & Mali Ston Croatia, but you will find some beautiful villas a short drive away. This is one of them
Mid Range Accommodations – Bed & Breakfast Sorgo Palace – Located just 50 metres from the walls of Ston entrance. You can't get much more central than this
Budget Accommodations – Villa Radić – Centrally located and homey place 350 metres from the walls of Ston.
For more places to stay in Ston, you can check the latest prices below.
How to get to Ston & Mali Ston
Mostar (OMO) in Bosnia and Herzegovina is the closest airport geographically to Ston & Mali Ston Croatia (50 kilometres away.) Dubrovnik's (DBV) airport would be the next closest at 55 kilometres away. The drive from Dubrovnik will be faster though, because you won't have to deal with immigration and customs when crossing the border from Bosnia and Herzegovina. Driving from Dubrovnik to Ston takes about an hour and the roads are well maintained and clearly marked.
If you want to drive from other locations in Croatia is feasible as the roads are pretty good and the views are exceptionally scenic as you make your way through the Pelješac peninsula. Rental cars are very affordable throughout most of Europe and Croatia is no exception. Search below to find the best rates.
We were staying on the nearby island of Korčula, so we took one of the trusty Jadrolinija car Ferries from Korčula to nearby Orebič, then drove the scenic one-hour drive to Ston.
What to See and Do in Ston & Mali Ston Croatia
The Great Wall of Ston
Of course you can't miss the walls when you're in Ston. The imposing structure dominates the views of the hilltops and is the defining feature of the town. If you're feeling like a walk, go ahead and trek along the walls all the way from Ston to Mali Ston. Just don't do what we did and attempt to do it on a hot summer day at noon! Check out our video above to watch us shamefully give up because we were overheating!
It takes about 1.5 hours to walk from Ston to Mali Ston. There are A LOT of stairs and not much shade on the route, so take water and a hat! If you're visiting in the summer, take the Croatian heat into account and go early in the morning or in the evening to avoid overheating like we did!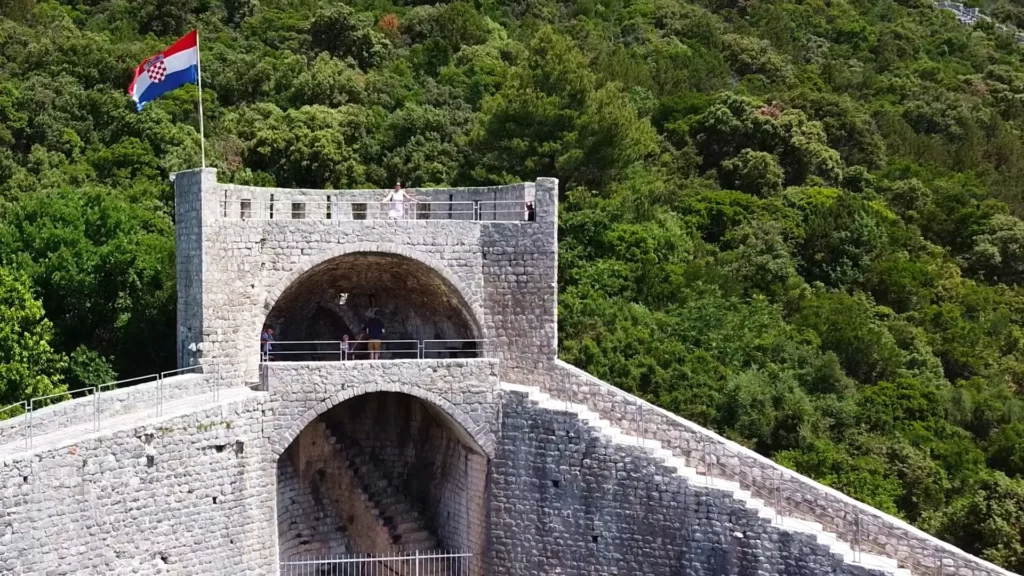 Begin at Fort Kaštio where you will purchase your tickets and explore that former fort. Afterward make your way toward the walls!
What are the Operating Hours of the Great Walls of Ston?
Summer working hours:
08.00 – 18.30 h (April 1st – May 31st)
08.00 – 19.00 h (August 1st – September 30th)
08.00 – 18.30 h (September 1st – September 30th)
08:00 – 17:30 h (October 1st – November 30th)
Winter working hours:
09.00 – 15.00 h (November 1st – March 31st)
Great Walls of Ston Entrance Fees
March – October
Individual adult ticket: 10,00€/$10.83 USD
Groups, agency (more than ten people): 8,00€/$8.67 USD
Youth (12 -18 years), students: 5,00€/$5.42 USD
Off Season Rates (November – February)
Individual adult ticket: 5,00€/$5.42 USD
Groups, agency (more than ten people): 4,00€/$4.33 USD
Youth (12 -18 year), students: 2,00€/$2.17 USD
Ston Saltworks
The Ston salt works, also called salt pans, have been in use for centuries (some say as far back as 167 B.C.!) They are some of the oldest and most well-preserved salt harvesting sites anywhere in the world. The salt pans are a series of interconnected pools. The seawater is funnelled into the site, then fed into progressively smaller pools. As the water evaporates from the sunshine, salt crystals form and are harvested by hand.
The salt pans at Ston are operated by a cooperative of local farmers, who have passed down the traditional methods of salt production from generation to generation. The salt here is sought after for its unique properties and they package it in gift sized bags. Don't forget to buy a bag or two as gifts for your foodie friends back home!
What are the Operating Hours of Ston Saltworks?
Summer working hours: 08:00 – 20:00
Spring working hours: 08:00 – 18:00
Winter working hours: 08:00 – 16:00
Ston Saltworks Entrance Fees
1. Individual tickets (visit to Ston Saltworks and screening of the movie Salt Harvest in the salt warehouse) €7.00/$7.58 USD
2. Group ticket (visit to Ston Saltworks) €4.00/$4.33 USD
3. Group ticket (visit to Ston Saltworks with a story about the technological process of obtaining sea salt and the history of Ston Saltworks) €5.00/$5.42 USD
Looking for Fun Things to do or Day Trips from Dubrovnik?
Where to Eat in Ston & Mali Ston
We stayed in Ston & Mali Ston for two days and ate at a few places, but here are two that we absolutely loved! And you guessed it, they both are very heavy on the Seafood!
The bounty of the sea is famous in this region, and for good reason. But there is a seafood specialty that is extra special here….the oysters! I know that they're not for everyone, but the unique salinity in the waters off of Mali Ston have resulted in oysters so special that they have been granted the European Protected Designation of Origin designation.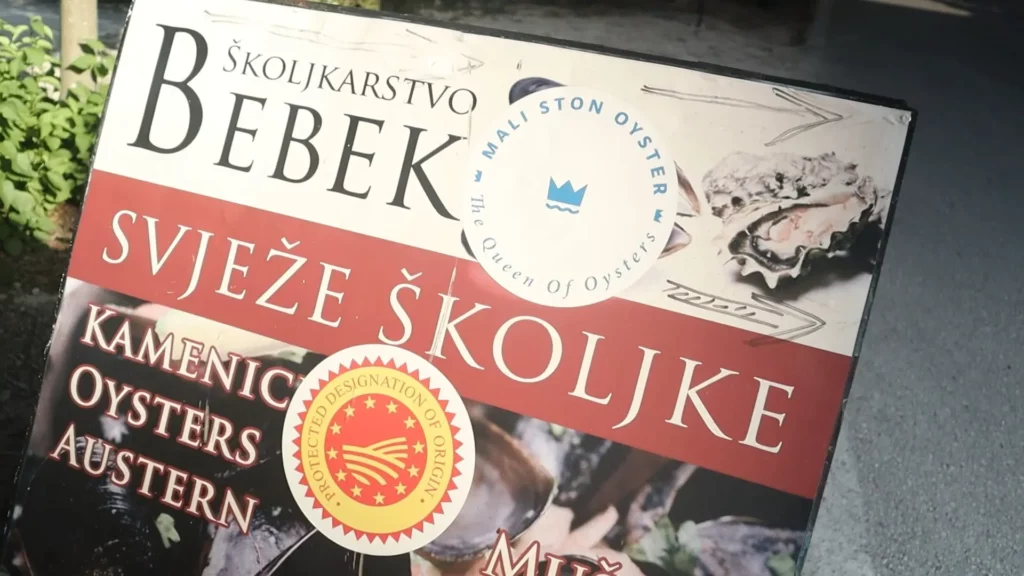 If you're looking to enjoy some fresh oysters right out of the sea, stop by Bebek Oyster Bar. This unassuming little road-side stall charmed us immediately. With a friendly (and hilarious) proprietress, Lilijana, freshly shucking 3 sizes of oysters to choose from. It may have been one of our favourite spots in all of Croatia. And definitely don't miss the chance to try one of the crisp local white wines, which pair perfectly with the oysters.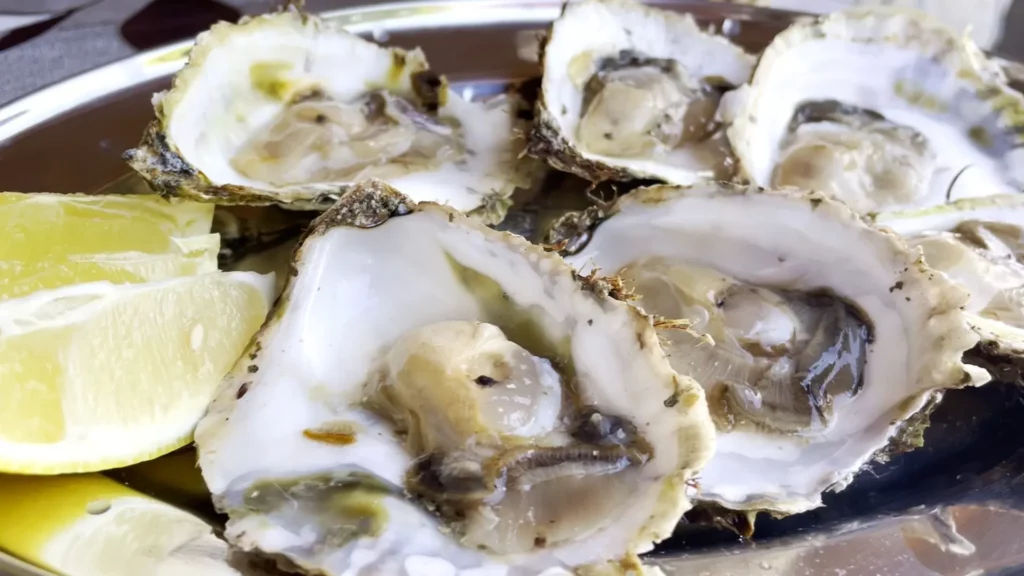 Our hotel recommended Vila Koruna Restaurant For a Seafood meal in Mali Ston. We entered and saw the biggest tanks of fresh seafood we've ever seen in our lives! They pull the catch out fresh and serve it simply and beautifully in a classic Croatian style.
Once again, take the opportunity to sample the amazing local white wines. And if you're feeling adventurous, finish the meal with Rakija. You'll find that in Croatia many restaurants will include this at the end of the meal, whether you ask for it or not! It's not polite to decline, so partake in some VERY strong after dinner beverages. You're on vacation, why not?
Best Time to Visit Ston & Mali Ston
Like many places on the Dalmatian Coast of Croatia, there is a sweet spot to visit. Humidity and heat can be brutal in summer. Closed businesses and cold waters in winter. But May and September/October are perfect shoulder seasons with minimal crowds and warm weather. If you can plan your visit at this these times, you'll have a much more enjoyable time.
If you're visiting nearby Dubrovnik, check out our list of can't miss things to eat and do here:
Best Restaurants in Dubrovnik – Where to Eat in the Old Town
Dubrovnik Croatia – Everything You Need to Know About Visiting the Old Town
Have you ever been to Ston or Mali Ston Croatia? Do you have other tips or tricks for visiting this amazing location? Did we leave something out? Leave a comment down below and let us know and help other travellers who are thinking of visiting.